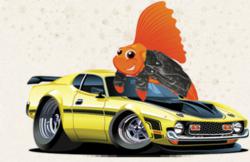 It's a heck of a time to pause production on the show, in the midst of the Republican primaries.
New York, NY (PRWEB) February 16, 2012
RoadFish.com men's lifestyle and finance magazine voiced concern and support for Stephen Colbert, after last night's live airing of Colbert's "The Colbert Report" was canceled and replaced with a rerun. Comedy Central has not offered an explanation for the delay in production of the three-time Emmy Award nominated show, but announced that this evening's episode will be a rerun as well. "The Colbert Report" is one of Comedy Central's highest-rated series. Show host Stephen Colbert, with a net worth of approximately $45 million USD, has not commented.
The official statement from Comedy Central gives little detail. Network spokesman Steve Albani said in a press statement to ABC News, "Due to unforeseen circumstances, the show will air repeat episodes on Wednesday, February 15 and Thursday, February 16." Russell Goldman of ABC reports that ticketholders to Wednesday night's show were alerted last-minute via an email, announcing that the taping was being cancelled due to "unforeseen circumstances." Many ticketholders were already waiting at the New York City studio, where the taping was scheduled.
The latest news comes from Sam Schechner of the Wall Street Journal's Speakeasy blog, who reported that the temporary suspension in "The Colbert Report's" production is due to an emergency in the Colbert family, and attributes the update to "people familiar with the show." Schechner adds that sources say the show is expected to resume production in the near future.
RoadFish.com's Senior Staff writer stated, "It's a heck of a time to pause production on the show, in the midst of the Republican primaries. For that reason it does cause concern. Whatever the Colbert family is going through, I feel for him and hope he's got a strong support system in place. I know his fans, including me, are behind him 100%."
The delay in "The Colbert Report's" airing marks the first time in the show's history that it has shut down production. Its sister show, Jon Stewart's "The Daily Show," from which Stephen Colbert was spun off, has only cancelled production twice in its 7-year history (once was for the birth of Stewart's second child, and the second after the sudden death of a staff member.)
Colbert left "The Daily Show" in 2005 to being the spin-off, "The Colbert Report," a satirical news show that addresses politics and current events. Host Colbert portrays caricatured versions of members of the Republican party and other conservative well-known political figures. The suspension in airing comes at a crucial time for the show, as the Republican primary season is currently in full swing, prime-time for "The Colbert Report." In January, Colbert visited South Carolina on the eve of its primary and staged a mock-campaign and rally for former Republican presidential candidate, Herman Cain.
RoadFish.com's Senior Staff writer expressed that he "sincerely hopes Colbert and his family are alright. He's a great guy, and I wish him the best. Hopefully whatever is going on can be quickly remedied."
Colbert himself has not made any statements or updated his Twitter account since Tuesday. His last post read, "Happy Valentine's Day! Hope you're enjoying your flowers, or chocolates, or smug self-satisfaction at not celebrating Valentine's Day."
About Roadfish
RoadFish.com is an online men's lifestyle and finance magazine targeted toward men in their 30's and 40's that have already attained a moderate level of success in life, and are striving toward more. It goes over current events of interest to this group, such things as exciting adventures, consumer interests, dating tips, as well as ways to make more and save more money. It is a publication owned by Purpose Inc.
###