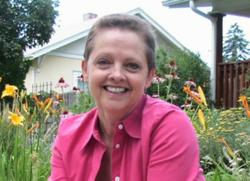 Denver, CO (PRWEB) February 17, 2012
The Breast and Women's Reproductive Cancers (BWRC) Fund today announced it's Top Ten Tips to survive this year's tax season. The list was created by Jo Myers, popular Denver author and broadcaster. Jo is a breast cancer survivor and the spokesperson for the BWRC.
10. Get out two big envelopes, address one to "Colorado Department of Revenue," the other one to the IRS and slap some stamps on both. Okay, that's done.
9. Pull out ye olde' shoe box and start sorting your tax info and receipts, then—[-ding- "Message Received"]. Read text. Answer text. Forget what you were doing. Pour yourself a beverage and stare mindlessly at the television.
8. Ease into the process. Pull out the state tax form and fill in at least a few blanks, using an erasable ink pen. With indelible ink, check Line 37, indicating you are making a donation to the Colorado Breast and Women's Reproductive Cancers (BWRC) Fund. Fill in donation amount, again using indelible ink pen.
7. Assemble a "2012 Tax Prep Survival Kit." Be sure to include lots of chocolate. Then, proceed to write it off on your taxes. (That's allowed, right?)
6. Wear black. It's so slimming. And if you look good, you feel good, even when filling out tax forms.
5. Make doing your taxes a fun family activity. Involve the kids. Let them fill out the forms. Blindfolded. (Be sure to remove any and all blindfolds when checking Line 37, donating to the BWRC Fund.)
4. Get organized and don't procrastinate. Between now and April 15, do a little bit every day with the goal of filing early and thus having more time for your new hobbies. (I recommend belly dancing and stamp collecting, but I'm old school.)
3. Have your dog do your taxes. (Fido always excelled at eating your kid's homework, so why couldn't he do this too?)
2. Before sitting down to work on your taxes, take three deep breaths, center yourself, and . . . Tebow yourself.
And, the number one way to survive tax season:
1. Whether or not you get a refund, go to Line 37 on the state form and donate to the Colorado BWRC Fund. Even if nothing else about taxes is particularly wonderful, helping others is a wonderful thing. Yay for you.
About the BWRC Fund
The Colorado Breast and Women's Reproductive Cancers (BWRC) Fund is part of the Checkoff Colorado a voluntary check-off program on the Colorado Income Tax Form. The goal of the BWRC Fund is to help reduce mortality from breast and women's reproductive cancers by expanding education, early detection, treatment and quality of life services throughout Colorado. The BWRC Fund is a signature program of the Colorado Cancer Coalition. For more information about the BWRC Fund, visit http://www.coloradocancercheckoff.org.
###