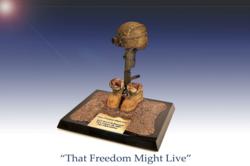 "The Soldiers Cross is the single most powerful means of showing respect for a fallen comrade."
-- Col. Michael Eliott, Ret., 82nd Airborne.
Portland, Oregon (PRWEB) February 18, 2012
Masterpiece Models (http://www.masterpiecemodels.com) designed and makes this beautiful custom memorial sculpture in Vancouver, Washington. It is being offered exclusively through The Churchill Mint (http://www.churchillmint.com). Both companies are known for offering extremely high quality art pieces and supporting our nation's military through donating a portion of their profits to charities supporting our military veterans.
The Soldiers Cross has long been a powerful and respectful tribute honoring fallen soldiers. Representing the correct era of military service, the 7" tall keepsake replica features a custom engraved brass plate commemorating your soldier's contribution and sacrifice. The piece is being offered in a choice of two materials, POLY Bronze and Painted Cast Resin. Pricing is $149.99 and $199.95 respectively, including engraving and free shipping within the United States. Photographs are available and can be ordered at http://www.churchillmint.com.
A full 15% of the purchase price will be donated to charities serving military Veterans.
"It is a great privilege to be able to partner with Masterpiece Models and make available this important tribute to Veterans and their loved ones," stated Darby Hershey, CEO of The Churchill Mint, Inc. and a Navy Vietnam Veteran.
"This is a great Memorial piece that has tradition all the way back to the Revolutionary war," said John Geigle, President of Masterpiece Models and the designer of the piece. We look forward to making more pieces available through Churchill Mint in the future.
About Churchill Mint
Churchill Mint was established in 2011 to design, manufacture, and market gold and silver sports memorabilia, commemorative pieces, and to work with charities to design custom pieces that the charities may offer for fund raising.
About Masterpiece Models
Masterpiece Models was established in 1996. They have been creating art pieces and replicas that are displayed in museums and with private collectors worldwide.
# # #