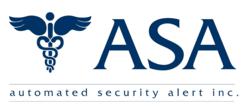 (PRWEB) February 17, 2012
Home Town Pharmacy customers are in for a nice new surprise: the store's new partnership with the Pittsburgh-based Automated Security Alert. Now when a customer walks in the door not only will they be getting what they came to the pharmacy for, they will have the option of leaving with some education about potentially life-altering good news: how to stay in their own home for as long as possible. Automated Security Alert displays will be featured on the pharmacy's counters, letting customers know about the variety of options that they have available to them from a company with an outstanding record of life safety and excellent customer service.
Jason Seyler, Automated Security Alert's Director of Life Safety said, "This type of display placement will be very beneficial to Home Town Pharmacy customers since many people do not know about medical alarms, medication dispensers, and telehealth devices. These displays will allow customers to gain knowledge on in-home monitored medical technology that allows them to age in place." Automated Security Alert's mission is to allow senior citizens and physically disabled persons to stay in their homes as long as possible while enjoying the security of knowing that help can be summoned immediately if needed.
Automated Security Alert, Inc., has provided freedom and security since 1988 to over 60,000 consumers through the use of technology and services that enable seniors, physically-challenged persons and recovering patients to maintain an independent lifestyle in their homes. ASA's creative, dependable solutions include medical alert systems(personal emergency response systems); fall detection systems; and medication management systems, including electronic pill dispensers and monitored medication dispensers.
For further information, please contact Matthew Couillard at 1.800.338.7114.
###