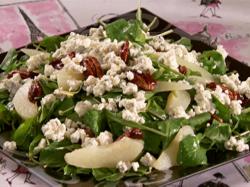 The single most effective way to achieve a healthy weight is by cooking at home, says co-founder & president Ziporah Janowski
Croton-on-Hudson, NY (PRWEB) February 22, 2012
In response to the demand from successful weight loss program participants, Shane Diet & Fitness Resorts has launched their healthy cooking series videos. Healthy diet is one of the key components of the renowned weight loss program and now anyone can have the opportunity to prepare these nutritious and delicious meals and snacks at home.
The healthy cooking series videos are led by Julie Harrington, Nutrition and Fitness Coach at Shane Diet & Fitness Resorts, whose passion is cooking and finding ways to make meals more nutritious. She also specializes in recipe makeovers by incorporating her knowledge of nutrition into comfort food recipes. Using actual recipes from the Resort's weight loss program, Julie teaches the audience how to re-create these tasty recipes at home.
The first two videos in the series demonstrates a refreshing and satisfying arugula and spinach salad and a delicious recipe for homemade hummus. Even for the most novice of cooks, this recipe is easy to follow and the ingredients are also inexpensive. A new cooking video will be released each month.
"The single most effective way to achieve a healthy weight is by cooking at home and saving those calorie laden restaurant and take-out meals for once-in-a-while. Our cooking videos show that preparing food at home needn't be complicated and can even be fun," says the program's co-founder and president Ziporah Janowski.
Thanks to these videos, anyone can enjoy preparing healthy recipes at home, even those who have not attended Shane Diet & Fitness Resorts. Click here (http://youtu.be/duTjCjQePbA) to view the first video in the series and stay tuned for the next release.
Shane Diet & Fitness Resorts (http://www.shanedietresorts.com) is a weight loss program for adults 18 years and older, located in the beautiful Catskills of New York at Honor's Haven Resort and Spa. A year-round adult weight loss program is scheduled to open in the upcoming months. Camp Shane (http://www.campshane.com), Shane's weight loss camps for children, is located in New York, Georgia, and California and a not-for-profit weight loss camp for underprivileged children, Shane Cares (http://www.shanecares.com), is set to open in New York.
###