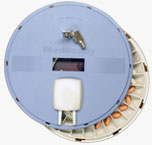 Pittsburgh, PA (PRWEB) February 20, 2012
Automated Security Alert and Home Town Pharmacy have created a partnership and ten people in the Pittsburgh area will be benefitting in a big way. By working with the local health care community, these ten fortunate individuals will be receiving monitored medication dispensers and monitoring services from Automated Security Alert while Home Town Pharmacy will be working with doctors to deliver prescribed medications to their homes and will fill the medication dispensers. Once the medication runs low, Home Town Pharmacy will refill the dispensers, and will stay in contact with doctors to be informed about new medications and changes in the medication routine. If a patient has a change in medication, Home Town Pharmacy will dispose of medications that are no longer needed.
The monitored medication dispensers are pre-filled with correct doses of medication and only allow access to the medication at the time they are meant to be taken. When it is time for the medication to be taken, the dispenser sounds an alarm to inform the patient to take their pills. If the patient fails to take his/her medication, the medication dispenser communicates with Automated Security Alert who will phone the patient to make sure that the medication is taken and records are kept. Jason Seyler, Automated Security Alert's Director of Life Safety stressed the importance of what they are doing by stating, "We are trying to prevent the 342 people who die daily due to poor medication adherence from dying(i) and cut down on the $290 billion in annual cost of patients not taking their medications as prescribed(ii)."
Automated Security Alert, Inc., has provided freedom and security since 1988 to over 60,000 consumers through the use of technology and services that enable seniors, physically-challenged persons and recovering patients to maintain an independent lifestyle in their homes. ASA's creative, dependable solutions include medical alert systems(personal emergency response systems), fall detection systems and medication management systems, including electronic pill dispensers and monitored medication dispensers.
(i)Fleming, W. (2008). Pharmacy management strategies for improving drug adherence. Journal of Managed Care Pharmacy, 14(6‐b Supplement), S16‐S20.
(ii)2010 Benchmarks in improving medication adherence (2010, May). Healthcare Intelligence Network. Retrieved from http://store.hin.com/2010‐Benchmarks‐in‐Improving‐Medication‐Adherence_p_4006.html.
For further information, please contact Matthew Couillard at 1.800.338.7114.
###