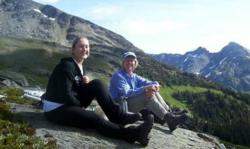 The exhilaration and thrill of hiking and climbing surpassed even our wildest expectations.
Banff, AB, Canada (PRWEB) February 21, 2012
CMH Summer Adventures announces a special mother-daughter trip led by America's preeminent expert on women's travel, Marybeth Bond, from August 5 – 8, 2012. This three-day Heli-Hiking Escape at the CMH Bobbie Burns Lodge, set amid the remote and breathtaking scenery of the Columbia Range just west of the Canadian Rockies, is an ideal setting for women to reconnect and have fun with those who have had a significant impact in their lives -- be it a mother, godmother, aunt, sister or friend.
Marybeth Bond (gustytraveler.com) is the award-winning author of 11 books, including the bestsellers 50 Best Girlfriends Getaways in North America, A Women's World, and Gutsy Women. She is a coveted speaker who has appeared on The Oprah Winfrey Show and as a media travel expert for CBS News, CNN, ABC, NBC, NPR and National Geographic. She will be joined on the trip by her daughter Annalyse and they will share the challenges and laughs that strengthened their bond while cycling across America in 2010 to raise awareness to help fight osteoporosis.
Speaking about her past visit to CMH with Annalyse, Marybeth said, "We agreed that the exhilaration and thrill of hiking and climbing surpassed even our wildest expectations. Some world adventures are simply never to be forgotten or equaled and this is definitely one of those!"
For more information on this trip and to learn more about CMH, visit http://www.cmhsummer.com or call 1-800-661-0252.
About CMH Heli-Skiing and Summer Adventures (CMH):
Offering heli-adventures since 1965, CMH is the world's oldest and largest heli-skiing and heli-hiking operator. From their head office in Banff, Alberta, CMH operates exceptional mountain experiences at 11 unique areas during the winter months, and two specular lodges during the summer months. Heli-skiing takes place each year from December through April while CMH Summer Adventures take place from July into early September and feature hiking, walking, mountaineering, glacier hikes, ropes courses, and via ferrata adventures for all ages.
###