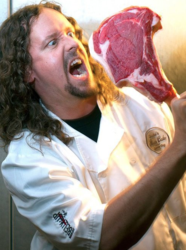 "I need to stay true to that inner voice and be nice," Adcock says. "Hopefully, the success will follow."
Kansas City, Missouri (PRWEB) February 18, 2012
Adcock's upcoming debut appearance at the SoBeWFF is a first for any chef from Kansas City, and he'll be bringing the heat and some sweet, too, in a big way. By big, this means a signature dish of the "Tomahawk Chop," a massive 4.5 lb. bone in rib eye cut, and two 35-inch pans of paella to be prepared over a peach wood fire on the beach.
The Tomahawk Chop has a special meaning for Adcock, it was inspired by collaboration with beloved and recently deceased Kansas City chef, John McClure. Following this SOBE event, Adcock will have served well over 200 of this chop from coast to coast over the past year. Adcock is one of a few in the nation that grills the 3.5" steak over an open flame.
The fantastic main entrées will be followed up with Adcock's famous dessert, Jude's Rum Cake. The cakes have become a mainstay of Adcock's catering business, he now ships thousands per year nationwide and they are available at 12 local Kansas City restaurants as well as retail outlets like Dean and Deluca, in Key West at the Rum Barrel restaurant and Adcock hopes to launch the Key West Rum Cake line later this year focusing on cruise lines.
Adcock, with his characteristic gleam in his eyes, jokingly refers to himself as the "only non-catering caterer" he knows. He's as down to earth as they come, which is quite a feat for a guy who recently cooked at the Playboy Golf tournament, backstage for Elton John concerts, and fired up the grills and 600 lbs. of meat at the SXSW Music Festival.
"I loved sharing my food with 30 of KC's bands as part of the MidWasteLand Takeover. It was a blast, we set up in an alley and recruited the pedal cabbies to reroute their routes through this alley - we had a buzz...it was cool to hear 'so did you hear, there's these kats from Kansas City serving bbq and gumbo out of an alley - - it was very Austin," says Adcock of the SXSW event.
When he's not "non-catering" for Playboy bunnies or baking rum cakes, you can find Adcock taking an active role in community service at home. Adcock has regularly volunteered with the Red Cross for 13 years now feeding the homeless. He also teaches at Culinary Cornerstones, a Kansas City based non-profit helping guide adults to stable employment.
"I need to stay true to that inner voice and be nice," Adcock says. "Hopefully, the success will follow," jokes Adcock about his habit of giving away his famously decadent cakes, donating his time in the community and his time spent "grillin' and chillin'" to help promote Central Coast winemakers.
It may come as a surprise to most that Adcock, with his long, curly hair, laid back demeanor and ease behind the grill, was once working in a corporate cubicle just four years ago, moonlighting on nights and weekends to feed his cooking passion. Adcock made the life-changing decision to take his side business and passion, Belly Up Bar-B-Que, into a full time career.
"The leap was one of the best and hardest things I've ever done. Kansas City has an amazing food scene with several cool peeps willing to share experiences and lend a hand. I get to share my fare locally and travel quite a bit. It's not easy, but I have a great supporting cast that keeps me grounded and brings me back to reality when I start to wander. It's not just about the money, the journey and the experience matter. Being nice matters," says Adcock.
Adcock's spirit of doing things his own way is reflected by his catering style — a blend of chef, charismatic host and sommelier.
"I get to cater my way - sort of a modern day tapas experience of "small bites throughout the nite" from 6 pm until midnight. A new dish comes out every 45 minutes or so. I usually fly solo on these events, so I'm part of the experience too - onsite prep, cleaning, and custom menus based on each client and wine pairings."
Adcock's menus are eclectic, everything from grilled lobster tail paired with popcorn and a cool Central Coast Marsanne, Roussanne, and Viognier blend, to small plates of bagna cauda, tuna tartare, seafood, or "old skool bbq" of ribs, brisket, pork, salmon.
Given his accomplishments in such a short time, Adcock seems to be taking the fast track to celebrity chef status. Two things are certain, if that happens; it won't go to his head, and there will be a long line of friends, culinary students, fellow chefs and rum cake fans cheering him on.
Craig Adcock can be contacted online through Belly Up Bar-B-Que and Jude's Rum Cake, or by phone, 913.526.6708 or email craig(at)bellyupbbq(dot)com.
###