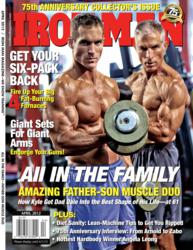 Los Angeles, CA (PRWEB) February 28, 2012
Iron Man Publishing is pleased to announce that its title, Iron Man magazine, will be joining other A-List publications such as Popular Science, Martha Stewart Living, Parents and Fitness, Car and Drive, and Esquire on Apple's iOS Newsstand.
Apple's newsstand separates magazine apps from the 140,000-plus other apps that compete for attention in the App Store. The discoverability factor, the ease with which you can now easily find magazines in the App Store, has contributed to impressive growth rates for publishers. And the dynamic book shelves where users can fill up with their favorite magazines and newspapers while they sleep, will be an enormous convenience for readers.
"We are very excited about our debut in Newsstand," John Balik, publisher of Iron Man, said in a press release. "Readers can now enjoy the easy-to-navigate bookshelf, and the greater level of discoverability of our brand should lead to even greater subscription growth."
Editor-in-chief Stephen Holman, who has been bodybuilding for over 35 years, said, "The App Store, with over 18 billion downloads to date, is a publisher's dream. With Newsstand, we now have an even better way to reach over 250 million iOS users about our healthy bodybuilding and fitness lifestyle."
Shiny new apps are fun but the enduring power of the Apple Newsstand rests upon providing quality content such as what you will find in each issue of Iron Man magazine, a world leader in providing bodybuilding inspiration, information and transformation since 1936.
Additionally, the stunning photography and insightful reporting are further enriched by the iPad tablet's and iPhone's brilliant display interfaces, making the reading experience submersive. LED backlighting enhances the images making them remarkably crisp and vivid.
The 75th Anniversary April issue of Iron Man will feature Kyle and Dale Clark, a father-son bodybuilding training team who proved that one can get into shape no matter what your age; an intriguing interview with Iron Man publisher, John Balik on the evolution of bodybuilding and past stars such as Arnold Schwarzenegger with classic video footage not found in the print edition; a stunning pictorial of Hardbody Model Search winner Angela Leong, chosen by our Facebook fans; and an inspirational collection of before and after transformations from the popular BodySpace web site.
To commemorate the Anniversary, the April issue will be available as a complimentary download on the Apple Newsstand the last week in February.
Iron Man Magazine for Newsstand is iOS5-compliant and will be pushed and downloaded in the background overnight, allowing auto renew subscriptions to be fed into the Apple Newsstand. Single issues are $5.99 and a 12-issue subscription is $29.99. Iron Man Magazine for Newsstand is available on the iPad and iPhone. Availability for Android and Blackberry coming soon.
Download the complimentary April issue of Iron Man magazine from Newsstand in iOS 5, from the App Store or online at:
http://www.IronManMagazine.com/site/aprilcover
About PixelMags
PixelMags is an established business that's transforming the future of digital publishing by changing how publishers distribute and monetize branded content. PixelMags is a privately held company, with offices located in Los Angeles, London, New Zealand and Australia.
About Iron Man Magazine
Iron Man magazine has been teaching the world about proper nutrition and bodybuilding weight-training techniques since 1936. For over 75 years, Iron Man has been providing bodybuilding information and inspiring transformations worldwide. More info at http://www.IronManMagazine.com
###