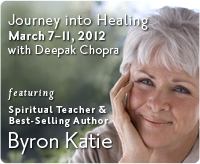 The Chopra Center is excited that Byron Katie will be part of the faculty of our Journey into Healing workshop, said Deepak Chopra.
Carlsbad, CA (PRWEB) February 17, 2012
This March 7-11 in Carlsbad, California, best-selling author and teacher Byron Katie will be a featured guest speaker at Journey into the Healing, the Chopra Center's signature mind-body healing workshop led by co-founder and mind-body healing expert Deepak Chopra, M.D.
Journey into Healing is an intensive workshop that brings together the top minds in a variety of fields encompassing mind-body health, psychology, and personal transformation. This March at Journey into Healing, the Chopra Center is pleased to welcome Byron Katie to its roster of acclaimed guest speakers.
"Byron Katie is the creator of a powerful process of self-inquiry known as "The Work," which has helped hundreds of thousands of people break free from conditioned patterns of thinking, allowing them to heal from disorders, such as depression and anxiety, and the kinds of chronic emotional upset that lead to physical illness in the body," said Chopra Center co-founder Dr. Deepak Chopra.
"We are excited that Byron Katie will be part of the faculty of Journey into Healing. Everyone who joins us for the workshop will experience an in-depth, practical exploration of health and well-being that combines the most recent discoveries in modern Western medicine and science with the healing arts of the East," Dr. Chopra said.
Every year hundreds of people from around the world attend Journey into Healing – including health care professionals as well as individuals seeking personal healing and transformation. Journey into Healing is an accredited mind-body medicine course offering continuing education credits for health care providers.
Journey into Healing includes:

Instruction in Primordial Sound Meditation and daily group meditations
Morning and evening Seven Spiritual Laws of Yoga classes (all levels)
The science of Ayurveda and a mind-body perspective on health and disease
The role of emotions and the mind in health and wellbeing
CME credits for physicians and other health care practitioners
Each day of Journey into Healing combines daily sessions of experiential learning, interactive sessions, lectures, and group activities, offering unique opportunities to interact with like-minded individuals from around the world.
Journey into Healing will take place in the magnificent setting of the newly remodeled La Costa Resort & Spa, the official home of the Chopra Center for Wellbeing.
For more information, please call 888.736.6895 or visit http://www.chopra/journey2012.
About the Chopra Center
The Chopra Center for Wellbeing was founded by Deepak Chopra, M.D. and David Simon, M.D. in 1996. Located in Carlsbad, California, the Center offers a wide variety of programs, retreats, and teacher training programs that integrate the healing arts of the East with the best in modern Western medicine. The Chopra Center has helped millions of people around the world find peace of mind, physical balance, and emotional healing. The website http://www.chopra.com is your starting point on the path to wellness.
About Byron Katie
Byron Katie, founder of The Work, has one job: to teach people how to end their own suffering. When Katie appears, lives change. As she guides people through her simple and powerful process of inquiry, called The Work, they find again and again that their stressful beliefs – about life, other people, or themselves – radically and positively shift. Through The Work, anyone with an open mind can learn to identify, question, and heal the thoughts that cause them pain. Katie not only teaches that all the problems in the world originate in our thinking: she gives us the tools to open our minds and set ourselves free.
Bryon Katie has taught The Work to millions of people at free public events, in prisons, hospitals, churches, corporations, universities, and schools. Participants at her weekend workshops, her nine-day School for The Work, and 28-day Turnaround House report profound experiences and lasting transformations. "Katie's events are riveting to watch," the Times of London reported. Eckhart Tolle calls The Work "a blessing for our planet." And Time magazine named Katie a "spiritual innovator for the new millennium."
Byron Katie is the author of the bestselling books Loving What Is: Four Questions That Can Change Your Life, I Need Your Love—Is That True?, and A Thousand Names for Joy: Living in Harmony with the Way Things Are, and Who Would You Be Without Your Story?
Media Contact:
Kathy Bankerd
(760) 494-1609
http://www.chopra/journey2012
###