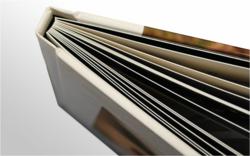 An album which is a notch up than a traditional photo book in quality and a notch down than a flush mount album in price
Palo Alto, CA (PRWEB) February 21, 2012
DigiLabsPro which provides professional photographers with a comprehensive and flexible online proofing solution as well as high end photo products, today announced it had added a new line of albums. These new and innovative Lake albums are silver halide printed, which ensures crisp and clear photos. The Lakes' flexible and lay flat spread pages delivers a book like feeling, with a quality look of an album.
"This new in the marketplace album is the best of all worlds; The Lake Album is a result of listening to our valued customers. They requested an album which is a notch up than a traditional photo book in quality and a notch down than a flush mount album in price; a perfect choice when you want a photographic panoramic album at a very affordable price. Perfect as a secondary album, Bar Mitzvah album, or similar special events, or even as a wedding album for a price conscious couple," says Bryan Passanisi -Product Marketing.
The Lake album comes with a photo cover and leather covers will be available soon. The Lake is available in three sizes to choose from: 8 x 8, 10 x 10, and 12 x 12.
The Lake Album also offers:

20 sides and up to 80 sides
Optional dust jacket similar to the photo cover
Free easy to use album design software with wedding album templates
Regular prices of a 20 pg/sides album ranges between $70-$130
Like in other albums and coffee table books offered by DigiLabs Pro, photographers can share the Lake albums online as a flip through book, they can be included in the client's web gallery, and copies of the album can be sold via the gallery to family or friends
More information and images of the Lake album are available online at http://www.digilabspro.com/products/albums/lake.shtml
About DigiLabs Pro
Since 2001 DigiLabs Pro has been an innovator in product and technologies designed for professional photographers. With its free workflow software professional photographers can:
Upload richly customized ecommerce enabled web galleries with studios' look & feel (DigiLabs is invisible to photographers' customers)
Create & order photographic lab services including albums, prints, proof prints and photographic proof books as well as other pro products like Gallery wraps.
Create and order custom, press print products including Coffee Table Photo Books, Cards, Promotional cards, Double-Sided Proof Magazine, proof books, and Calendars.
Media Contacts
Anna Krebs
DigiLabs Pro
650-390-9749
press(at)digilabspro(dot)com
###