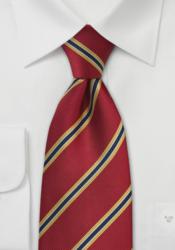 San Francisco, CA (PRWEB) February 17, 2012
Right in time for St. Patrick's Day (March 17th) and National Tartan Day (April 6th), men's online neck tie retailer Ties-Necktie.com is offering American men who wish to celebrate Irish, Scottish and British heritage an expanded selection of striped and regimental ties. The ties, available in an array of color combinations, range in price from $9.90 to $34.90.
A tradition of neck ties that started in the United Kingdom in the mid-19th century, regimental ties were originally worn by various British army regiments, who adopted the idea to keep after. Each regiment wore a color combination that would differentiate it from the others. Eventually this custom also spread to British sports and country clubs.
Diagonal striped patterns and colors like olive green, maroon, navy blue and mustard yellow are the hallmarks of the regimental tie. Today, the look is worn with classic shirts, like oxfords with buttoned down collars, navy blue or gray suits or classic sports coats.
Regimental ties are also typically made from a relatively stiff fabric, called Mogador silk or Irish poplin. Due to the complexity of the weaving process to produce these fabrics, very few manufacturers are producing classic regimental ties today. However, Ties-Neckties.com carries a large assortment from all the major designers currently producing regimental ties.
Popular color combinations on Ties-Necktie.com include the Blue and Brown Dragonfly Striped Tie, the Burgundy and Navy British Repp Tie and the Burgundy and Red Striped Tie. In addition to these conservative looks, more stylish striped ties are available in combinations like orange, navy and silver, eggplant purple, and black, purple and silver.
"Every man should have at lease one regimental tie in his wardrobe," said Ties-necktie.com founder Hendrik Pohl. "It's an old-world look that hints at class and elegance. We recommend the Classically Striped Tie in Navy. A wardrobe staple now for over a hundred years, regimental ties are timeless."
Today, regimental ties are still popular throughout the United Kingdom, Ireland, mainland Europe and the former British colonies among men wishing to sport an effortlessly refined look. They are ideal for clean-cut business attire and are even still worn in more relaxed settings, like country clubs and restaurants.
Representing a classic, aristocratic and royal look, regimental ties are one of the oldest tie designs still popular today. For information on how to best combine the regimental tie with suit and shirt, please view Ties-Necktie's Match Your Necktie guide.
###