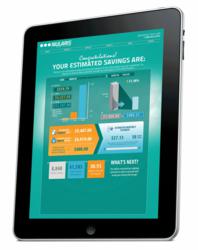 Los Angeles, CA (PRWEB) February 17, 2012
LED lighting company Nularis, released a free smartphone and web app this month that enables business owners to quickly determine how much money they can save by upgrading to energy-saving LED lighting.
In the past, the entire process of upgrading to LEDs could take months. Between auditing lighting needs, selecting products, securing tax credits and rebates, the process can quickly become complicated.
Which is why LED lighting company, Nularis, Inc. announced the release of its new "Energy Audit App" for smartphones, tablets and computers. The web based application allows enterprises to quickly audit their current lighting and instantly find out how much their utility bill will be reduced by installing LED's on their smartphone, iPad or computer.
The app also tells enterprises how much they can expect to receive in rebates from their local utility company, which will help pay for the project. It will even assist the customer with finding the correct LED to match or improve on the current lighting.
"The idea is to make upgrading to LEDs simple and painless," says Director of Marketing, Kyle Schee. "No hunting for the right bulb at the lowest price by yourself. And no need to bring in expensive lighting experts to consult. All you have to do is take a few minutes to audit your own lighting needs, and then the Nularis energy app can take care of the rest."
Nularis has coupled the app with its "LEDs Are Effectively Free" program which will allow customers to upgrade to LEDs with zero out of pocket costs.
"We break up the cost of the project into small monthly payments that are guaranteed to be lower than the amount the LEDs saved on the company's energy bill," said Schee. "Instead of writing a check for project and then seeing a return on investment after several years, the business gets an ROI immediately."
To use the app and to get a free energy audit of your business, you can visit http://www.Nularis.com.
# # #