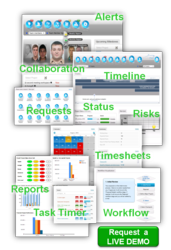 We listen to our customers and bring them the easiest and most effective solutions in the industry. Our ability to increase the agility, efficiency, and competitiveness of mid-sized organizations is the basis of SharkPro's extraordinary success
Las Vegas, NV (PRWEB) February 18, 2012
What does St Lukes, Dallas Childrens and Texas Childrens Hospitals have in common? They all use SharkPro Software for their project and portfolio management solutions. And now the entire medical community can learn first hand how to work smarter with world-class SharkPro Projects™, an exciting and visually appealing on-demand project and portfolio management (PPM) solution powered by Microsoft Project Server 2010, at the Microsoft Health Users Group Conference, February 20-24 at the Venetian Sands Expo Center in Las Vegas, http://www.himssconference.org/.
By implementing SharkPro, Healthcare organizations can increase their project management and business intelligence capabilities. The SharkPro Work Management Solution for Health Organizations is an enterprise-wide business request framework integrated with SharkPro's proven project and portfolio management solution. SharkPro's Work Management Solution is designed to help health organizations capture ideas and requests, align resources and investments with business priorities, gain control across all types of work, and report performance.
Helmed by industry leader Greg Bailey, in the first full year of business, SharkPro Software has grown by 500% with presence throughout the United States, Asia and Europe. "We listen to our customers and bring them the easiest and most effective solutions in the industry. Our ability to increase the agility, efficiency, and competitiveness of mid-sized organizations is the basis of SharkPro's extraordinary success," explains Bailey, Founder and CEO of SharkPro.
Bailey will be on-hand at HIMSS to discuss why the health care market has enthusiastically adopted the SharkPro Work Management Solution™, an important value add to Microsoft, the leader in PPM software, because it lowers the time and cost of implementation to make PPM more affordable for hospitals and other mid-sized businesses. The same excitement is expected with the soon to be released SharkPro IT Metrics Portal™ and SharkPro Microsoft Dynamics integration. Attendees will also get the chance to hear from Carlos Escobar, MBA, Administrative Director, Information Systems, Florida Hospital, one of the largest not-for-profit hospitals in the US, sharing his personal success using SharkPro Software in his seminar titled "Prioritizing Projects in Today's Healthcare using Project Server 2010" http://www.microsoft.com/health/en-us/HIMSS_12/Pages/default.aspx. Bailey will also be doing table discussions on Monday, February 20th at the executive reception.
For those not able to attend HISS, there will also be Project Management Healthcare Summits in St. Louis and Minneapolis in February as well as a Webcast titled Prioritizing Healthcare Project in April. Go to http://www.sharkprosoftware.com to sign up, or for a complimentary hospital request system and project server demo, email info(at)sharkprosoftware(dot)com.
About SharkPro Software
SharkPro Software Corporation (http://www.sharkprosoftware.com) provides integrated work management solutions and services that increase the agility, efficiency, and competitiveness of mid-sized organizations. SharkPro Projects™ reduces the time, cost, and complexity of project and portfolio management with an extended implementation of Microsoft Project Server 2010 that can be deployed rapidly both on premise and in hosted. The SharkPro Work Request Framework is popular with a variety of organizations for capturing ideas and requests across the enterprise and providing a clear and transparent evaluation and approval process. SharkPro Fast Path enables companies and agencies to immediately acquire all the SharkPro Software and services that they need while delaying payment until realizing the value of their investment. For more information, please visit http://www.sharkprosoftware.com or call 713.300.2386.
###