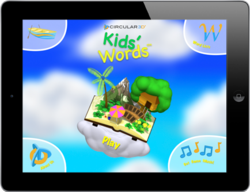 Parents and teachers can view report cards and determine a child's areas of strength and weakness.
Chantilly, Virginia (PRWEB) February 18, 2012
Circular3D™ released a new educational game for kids called Kids' Words™. The app, which can be downloaded from the App Store℠ for $2.99, provides insight to parents and teachers as their children learn to read and write. Kids' Words breaks learning barriers by identifying areas where children are struggling. Children are scored as they match missing letters in a series of word puzzles. Report cards are generated each time a child plays. Parents and teachers can view report cards and determine a child's areas of strength and weakness.
Kids' Words provides word sets in 5 different themes, including the backyard, beach, garden, jungle, and mountains. All audio and sound effects are professionally mastered, and children hear the pronunciations of each word they are solving. Kids' Words is filled with vibrant children's music designed specifically for each theme. Various animals can be heard in the background of the songs.
Kids' Words showcases highly polished graphics and beautiful artwork specifically designed for each theme. The jungle theme is filled with vines and lush foliage, while sand and sea are abundant in the beach theme. Kids' Words is full of interactivity, animations, and effects; a place where children will love to learn.
Kids' Words theme music is on iTunes®, under the album title Kids' Words (Original Soundtrack). Fans can purchase the album for $5.99, or individual songs can be purchased for $0.99. Songs with and without the animals are available for purchase.
Circular3D is an entertainment company that produces children's educational products for mobile devices. Circular3D designs beautifully crafted educational products that enable parents and teachers to see their child's performance. Circular3D is reinventing how children learn on mobile technology. Circular3D has numerous albums on iTunes. For more information about Circular3D visit http://www.circular3d.com.
###