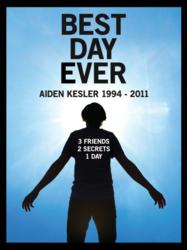 We are delighted to see a film as wonderful and unique as Best Day Ever: Aiden Kesler 1994-2011 available on Monkeybars
Los Gatos, CA (PRWEB) February 18, 2012
Monkeybars, a social marketplace to discover, buy and share innovative content, today officially welcomes the producers of Best Day Ever: Aiden Kesler 1994-2011 to the new community that enables artists and fans to earn meaningful royalties from the online activities they already do daily.
"Monkeybars was created around our belief that artists and their creativity deserve to be appreciated while fans and their influence deserve to be rewarded for spreading the word. We are delighted to see a film as wonderful and unique as Best Day Ever: Aiden Kesler 1994-2011 available on Monkeybars," said Fergal O'Moore, EVP of Business Development for Monkeybars. "A film addressing such an important and poignant topic, one that is very close to our hearts, is a great example of the type of work we hope Monkeybars helps uncover for fans of film everywhere. We are proud to have been chosen to support the distribution of this film."
Best Day Ever: Aiden Kesler 1994-2011 details the best day ever of 17 year old Aiden Kesler as he secretly struggles to come to terms with his cancer and the impending chemo while playing hookey with his two best friends. Using a home video camera to document the ever-escalating hijinxs with friends Reese and Melissa, the footage reveals a young man's struggle with mortality set against the backdrop of Jackass-like pranks.
"We knew early on that Best Day Ever: Aiden Kesler 1994-2011 was going to be best distributed digitally using social networking tools to create direct and hopefully persistent connections with true fans," states Adria Budd Johnson, one of the film's producers. "Monkeybars distinctive utilization of social currency with actual currency, in the form of rewards for referral purchases, got us really excited. We feel like it's a way we can give back to people who like our film and share it with their friends."
"Fans are constantly recommending content through social networks, but are not getting anything for it, while the artists, from the popular to the undiscovered, continue to hand over large percentages of their worth to third parties in order to have their voices heard," said Tom Thimot, CEO of Monkeybars. "We created Monkeybars to put artists and fans back in the driver's seat. As influential fans steer their friends towards fresh and innovative content, not only is the support of artist's creativity accelerated, the entire community is rewarded and sustained," said Monkeybars Founder, Robert Hayden.
Monkeybars complements existing relationships on Facebook, Google+, Twitter, etc., to allow users to make more meaningful recommendations to their friends. After joining Monkeybars, content providers can grow their community and upload their own unique content—including music, film, e-books, and art—for sale in the Monkeybars Market and set the price points for each piece of content, as well as the monetary amount of royalties the artist wishes to "reward" the community. Then, for each purchase through the Monkeybars Social Graph Royalty Program™, the network of fan recommendations that led to the purchase is financially rewarded. Consumers joining the Monkeybars community can tap their existing social networks to recommend the content they find most interesting.
###