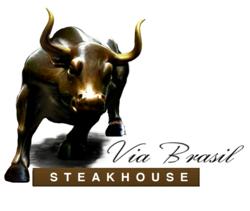 Dine and Drink for only $5 at Via Brasil Steakhouse.
Las Vegas (PRWEB) February 20, 2012
Via Brasil Steakhouse in Las Vegas started doing a $5 menu this February for only limited time at the bar and patio. This menu has a choice of 17 different appetizers for only $5 from 5pm to 6pm every day. Also, drinks specials like $5 caiparinhas, $5 flavored mojitos and $3.5 beer are served every day from 5pm till 8pm at the Bar. Early customers get the best prices at Via Brasil Steakhouse.
Via Brasil Steakhouse is a Las Vegas Churrascaria that offers Rodizio Dinner with 18 kinds of meat, Gourmet Salad Bar and 16 side dishes all you can eat in a dining area.
Via Brasil Steakhouse is a casual steakhouse that offers Rodizio Dinner for $44.99 and now Via Brasil Steakhouse offers $5 appetizers at the bar and are only $5 from 5pm till 6pm.The list of Via Brasil Steakhouse bar appetizers a customer can find on http://www.viabrasilsteakhouse.com
About Via Brasil Steakhouse:
Via Brasil Steakhouse is located at 1225 S. Fort Apache Road, on the southwest corner of Charleston Boulevard and Fort Apache Road. Open seven days a week, Via Brasil Steakhouse is open for Dinner service from 5 pm Monday through Friday, 3pm Saturday and 4PM Sunday. Lunch is Served Sundays Only from 11:30am -4pm. Reservations are encouraged. For reservations or more information, please call 702-804-1400 or visit http://www.viabrasilsteakhouse.com. Also follow us on Facebook and Twitter @viabrasilsteakh
# # #