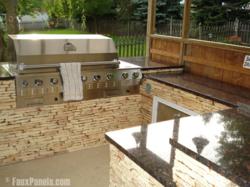 Stone veneer is perfect for quick and easy spring projects
Deer Park, NY (PRWEB) February 27, 2012
Winter is the perfect time to start planning spring renovations, as proven by the design queries FauxPanels.com receives this time every year regarding warm-weather home remodeling projects using stone veneer, faux brick and faux wood siding.
"Avid gardeners plan now for spring and homeowners who want to remodel when the weather breaks do the same thing," said Steve Barron, president of Faux Panels. "They can work out all the details now so once the weather is consistently warm, they can get started."
"Once we get past New Year's, our customer service reps start fielding more and more calls, answering all kinds of questions, helping them calculate how much material they'll need and more," added Ruth Barron, vice-president of Faux Panels.
Based on the questions received, homeowners are ready to freshen up exteriors to improve curb appeal or create an outdoor living space while still sticking to a smart budget.
"That's the great thing about stone veneer – you don't need an expensive mason and the material cost is a fraction of genuine stone. You won't get a hernia lifting it either. Many projects can be done by just one person," said Steve Barron.
Those using a contractor still save money with faux brick and stone. Quicker installation time means lower labor costs.
Here are a few types of projects homeowners are planning for spring, based on calls received by the design experts at FauxPanels.com
1. Stone Veneer Clad Grills and Outdoor Kitchens
Whether it's an exterior serving and eating area or a built-in grill, stone veneer can provide the look of expensive, hand-laid rock with just a DIYer's skill. Depending upon the size of the project, it can be done in a weekend.
"People don't want to spend the weekend doing a lot of work," said Steve Barron. "Faux stone is low maintenance so once it's installed, you're practically done."
2. Faux Wood is Perfect for Outdoor Living Rooms
Weatherpoof faux wood is the smart choice for everything from a simple deck to a more elaborate area for outdoor entertaining. It holds up beautifully in all climates and doesn't attract termites or pests. Real wood can rot regardless of the sealant used and might have to be replaced as often as every two years. Faux wood easily lasts 20 years and longer with very little maintenance.
Just as brick and stone veneer can be used to dress a fireplace, they can also be used to frame a fire pit to ward off early spring and late fall chill. It can even edge a space, creating an attractive boundary.
Beauty and practicality can go hand in hand with faux brick or stone wainscoting. It's a quick way to change the look of your home's exterior, and it protects it from wear and tear.
"An attractive foundation cover enhances landscaping by providing a contrasting backdrop," said Ruth Barron. "Since faux brick and stone don't dust or crumble like the real thing, maintenance is easy. Just power wash it now and then if needed."
4. A Partial or Full Exterior Facelift
Whether your home's entire exterior needs a change or you just want to dress it up with an accent wall, brick or stone veneer paneling is the perfect solution.
"With so many color and design options, homeowners can get a custom look to break up that suburban cookie-cutter look," said Steve Barron. "It even improves the insulation value of your home.
Since reliable weather for exterior renovations doesn't usually occur until May, there's still plenty of time to plan a spring remodeling project. Because faux stone and brick paneling install so easily, homeowners can start enjoying the fruits of their work quickly.
"Thanks to the combination of good looks, low maintenance and budget friendly projects, using faux brick and stone veneer outdoors truly is a win/win/win," said Steve Barron.
About FauxPanels.com and FauxWoodBeams.com
FauxPanels.com is an industry leader due to wealth of installation guides for DIYers and the best selection of the realistic faux brick, stone and wood panels and columns on the market. FauxWoodBeams.com leads the field of polyurethane wood beam products, ceiling panels and architectural products. Products from both companies have been regular featured on television shows such as "Celebrity Apprentice" and numerous appearances on "Extreme Makeover: Home Edition." Both are subsidiaries of Barron Designs Inc., a family-owned home improvement business operating since 1972. For more information, visit FauxPanels.com and FauxWoodBeams.com.
###