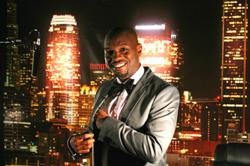 Nate is a dynamic individual who is also a very experienced travel expert and host.
(PRWEB) February 17, 2012
On February 17th 2012 popular travel blogger Nate Fluellen, better known as World Wide Nate (WWN) will begin his first adventure to South Africa as part of South Africa Tourism's Influencer Tour. Nate will have a show produced and distributed on RealHD.TV. He has an upcoming interview with multi platinum selling artist Ray J. The interview will be shot and produced at Loyal Studios. Fluellen will join three other travel bloggers--Rob Lloyd, Ryan Gargiulo, and Teri Johnson--on the 14-day tour that includes stops in Johannesburg, Kruger Park, Cape Town, Wine Country and Durban.
"Nate is a dynamic individual who is also a very experienced travel expert and host," notes Producer Bob Bekian of Loyal Studios. "This South Africa trip will definitely have some exciting moments" he adds.
The Influencer Tour is part of South Africa's social media campaign, which hopes to use the influence of social media bloggers like WWN to promote South Africa as a safe, entertaining and inspirational tourist destination. Treated with the highest level of South African hospitality, the bloggers will visit South Africa's most notable and historical sites including: the Museum of Africa, the Cradle of Human Kind, San/Bushman Tour, Singita Kruger National Park and Wine Tasting at M'Hudi Wines.
As a social media influencer, WWN'S global reach is large, 100,000 unique visits per month, and he will share his South African adventure with his global audience through his widely read blog http://www.worldwidenate.com where he also posts updates from tourism boards across the globe and information from travel related companies. "Visiting South Africa is a childhood dream come true, I don't want to sleep so I can enjoy every minute!" says World Wide Nate. WWN hopes that his experience will encourage his social media audience to make their own plans to #visitSouthAfrica.
Follow WWN on the South African Influence Tour February 17 - March 1, 2012 on http://www.WorldwideNate.com.
###