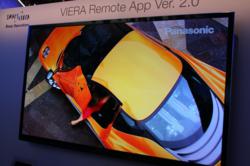 These TVs will be extremely popular this year due to their very deep black levels and realistic color along with great 3D viewing
Atlanta, GA (PRWEB) February 21, 2012
Plasma TV Buying Guide Editors Jack Burden and Robert Wiley thoroughly review the features and many of the qualities the new 2012 Panasonic Plasma TV Models for plasma TVs that will be entering the HDTV market this year from March – June. The editors have published features reviews for new series such as the GT50, ST50, VT50, and UT50 series for 2012. "These TVs will be extremely popular this year due to their very deep black levels and realistic color along with great 3D viewing," stated editor Robert Wiley. "We've already seen what the newest Panasonic Infinite Black Ultra panel is capable of in terms of black levels. But we also look forward to performing our own picture setting calibrations on them as soon as possible to see if we can really make the colors come alive."
Editors note many new improvements in the top of the line Panasonic TC-P55VT50 Review including a touchpad remote control and a new social networking feature. Burden notes in his review, "Infinite Black Ultra with 24,000 steps of grayscale gradation as opposed to around 7,000 before. This provided us with with excellent blacks and an exceptional amount of color detail throughout images. To get the best black levels imaginable Panasonic has lowered the pre-discharge to bring in the lowest voltage possible and still excite the phosphors."
In the second tier of the Panasonic Plasma lineup the reviewers point out excellent traits in the Panasonic TC-P50GT50 Review which relates, "The TC-P50GT50 has the Infinite Black Ultra panel that is Panasonic's best for 2012. This is a big step up from lower end plasmas from Panasonic due to the much better signal processing. Black levels are about 50% better than lesser models."
The third tier down on the 2012 plasma lineup according to the company is the Panasonic TC-P50ST50 Review which states the following strengths and weaknesses for that model as follows:
"Strengths
Panasonic's Infinite Black Pro Panel
1.5 X Brighter than last year
Built in Web Browser
Built in Wifi
Social Networking Feature
Active 3D
Incredible Value
Weaknesses
Appearance is somewhat dated
Detailed Calibration Necessary to optimize picture "
Reviewers note that in the 4th tier, Panasonic is going for a value oriented 1080p TV that still has active 3D viewing with the Panasonic TC-P55UT50 Review. Strengths and Weaknesses for this model are listed as:
"Strengths
Good solid feature set (Smart TV and 3D)
Smooth picture performance and up conversion from 480p
Speaker Quality
HD performance with fast action is no problem with 600Hz equivalent sub field drive
Dark Shadow detail from Infinite Black 2 Panel
Excellent Value
Weaknesses
Blacks not as saturated
Motion artifacts a little more pronounced
Black shiny bezel frame yields a little reflection
Needs calibration for color to pop"
About CEAG Inc.
Consumer Electronics Advisory Group Inc. operates several premier buying guide websites, including plasmatvbuyingguide.com, lcdtvbuyingguide.com, and 3d-tvbuyingguide.com among others. Online since 1999, the company provides objective and thoroughly researched information through professional reviews performed by seasoned reviewers. Editors Robert Wiley and Jack Burden have been reviewing televisions since the first commercial plasma TVs hit the market in year 2000. ISF calibrator John Wirtz has been calibrating televisions professionally for 10 years. The company adheres to strict testing guidelines using the highest caliber equipment. Company web sites have more than 15 million unique visitors each year in the fast growth consumer electronics industry.
###