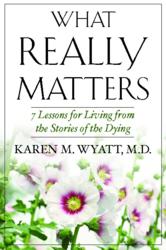 This book is a tribute to those patients who generously taught the lessons of life and death.
Silverthorne, CO (PRWEB) February 21, 2012
On Saturday February 25, 2012 a book signing for Dr. Karen Wyatt's new book of hospice stories will be held at The Next Page Bookstore to benefit the Bristlecone Foundation, which raises funds to help support home care and hospice services to patients with limited or no insurance.
The book "What Really Matters: 7 Lessons for Living from the Stories of the Dying" tells the stories of several patients and their families as the approached death and details the life lessons that were learned through that process. In addition the book provides a discussion about those lessons and teaches how readers can apply them to their own lives and find new meaning and purpose in their existence.
Dr. Wyatt says she wrote the book to help educate people about hospice services and she is pleased to be able to offer book signing events and lectures to help promote and support local hospices in their work. As a former hospice physician Dr. Wyatt says, "I know how important it is for hospices to have the means to offer care to all patients, including those with limited or no insurance. So I am happy to be able to contribute to that cause."
The event will be held on Saturday, February 25, 2012 from 3 to 5 pm at The Next Page Bookstore, 409 Main Street #101, Frisco, Colorado.
The Bristlecone Foundation is a non-profit organization that relies heavily on the support of the community as it raises funds to support Bristlecone Health Services, serving those in need in Summit County and neighboring communities. For more information contact the Bristlecone Foundation at 970-668-8444.
###