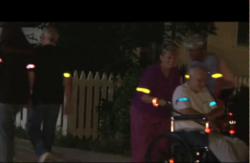 Vedante POP BANDS are a simple and effective solution for being visible to cars at night.
Boulder, Colorado (PRWEB) February 21, 2012
Vedante POP BANDS are a simple, fashionable and effective solution for being visible to drivers at night. View them live by clicking the You-tube video at the bottom.
Auto related accidents increase during the winter months. It's important to be aware of visibility issues, particularly at night when visibility is limited and people wear darker colors.
Vedante CEO, Barbara Kantor, states "Pedestrians dressed in black and dark colors can only be seen about 20 feet at night. That is not enough distance for a car to stop"
Chances of a pedestrian being struck and killed increase by 1100% after dark according to the National Safety Council. The Federal Highway Administration's states "reflective products have been shown to increase the visibility of a pedestrian by a factor of five".
Vedante POP BANDS are an inexpensive, fashionable and effective solution to being visible to drivers. They can be worn on arms, ankles, wrists, bike handles, baby carriages, back packs and purse straps. Designed to reflect a large amount of light, POP BANDS have a level of reflectivity that is much higher than in similar products. When worn on arms and legs, Vedante Super Reflective POP BANDS give 360 degrees of visibility in low light conditions.
POP BANDS and other Vedante reflective products are not "glow in the dark" products. Distinctively designed to deliver powerful visibility, Vedante™ products are like wearing millions of tiny crystal beads that reflect light back to the source in which that light is coming from. Vedante POPBANDS create visibility up to 1500 feet in the face of headlights. The products are distributed in retail shops, online at Vedante's website and are a #1 best-selling reflective product for people and their pets on Amazon.com. They are also available in Europe at Amazon UK
POP BANDS are available in 2 sizes and retail for $12.98 - $13.98 a pair. They reflect in a wide array of colors (yellow, white, tangerine, red, pink, blue, and green). The material used for the yellow, white, and tangerine is ANSI 107-2004 compliant. Even though POP BANDS aren't specifically listed on official safety lists, they are often worn by construction crews and other nighttime work teams to bring lightheartedness and safety to their jobs. Kantor developed her line of reflective products with both safety and fun in mind, saying, "We have a genuine opportunity to increase nighttime safety and save lives. Vedante's mission is to promote nighttime visibility through highly reflective and durable products that are also fashionable and fun."
Also available are cat collars, dog collars (including a puppy collar), dog leashes (in both 4' and 6' styles).
About Vedante:
Vedante is a company committed to saving lives and reducing injuries from pedestrian-vehicle, bicycle-vehicle, and auto-pet accidents by 80% in markets in which it operates. The mission is to increase visibility, and therefore nighttime safety through education, awareness campaigns, and the creation of great "fashion that reflects well on you™."
For more information or to purchase, please visit http://vedante.com or go to Amazon at: http://www.amazon.com/s.html?ie=UTF8&node=3375301&brand=Vedante.
Vedante donates a percentage of revenue from un-packaged goods to sustainability and safety charities.
For safety tips, deal alerts and fun stories follow Vedante on:
Facebook
Twitter
###