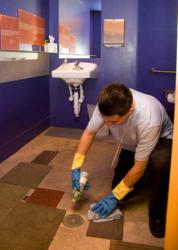 Building maintenance and facility cleaning require different skill sets than those required for food preparation and service
Los Angeles, CA (PRWEB) February 17, 2012
As the downturn in the nation's economic situation continues to struggle to turn around, many restaurants are turning towards outsourcing facility cleaning and maintenance. While adding another vendor to a restaurant's account payable list may seem like the last thing an organization needs to do to cut cost, many restaurants are finding that sometimes doing some tasks in house takes away from the organizations overall efficiency. Commercial Janitorial, one of the nation's largest commercial cleaning companies announced a new nationwide Restaurant Cleaning program for its employees called RestClean2012. RestClean2012 is an automated information tool which enables vendors, restaurants and cleaning staff to share and disseminate information in real time in order to comply with regulatory and venue specific guidelines.
"Building maintenance and facility cleaning require different skill sets than those required for food preparation and service," said Jermey Kronen director of Hospitality and Restaurant cleaning services for Commercial Janitorial. "Therefore this new tool will allow restaurants to more efficiently utilize outsourced cleaning services."
Its no secret that the restaurant industry is one of the most competitive industries in America, and some of the equipment and supplies required to clean a restaurant properly can be expensive, from commercial carpet extractors to microfiber mops and rags to clean cleaning supplies, for a new restaurant to stock and equip supplies for a year can be very expensive. When compared to the weekly cost of an outsourced cleaning company, a company facing tight margins is going to look favorably on forgoing the initial outlay. "Coupled with the fact you get a dedicated team that is going to clean properly and quickly, leaving internal staff to focus on their core competency, it's a no brainer," Kronen explained.
In fact many restaurants face additional challenges besides just making the place look clean at a budget that doesn't break the bank. There are a growing number of complex regulations in some cities and municipalities that in house staff may not be able to be trained to keep up with. For example some of the regulations involving Los Angeles restaurant cleaning may even result in a facilities closure after one violation. "We constantly keep staff educated and updated on local rules and regulations through a pretty thorough training regimen."
For more information on RestClean2012 and Commercial Janitorial, visit commercialjanitorial.com/restaurant-cleaning.aspx .
###