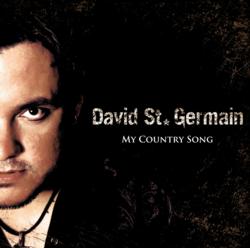 (PRWEB) February 18, 2012
The new David St.Germain album got a little help from Keith Urban's guitar player Brian Nutter. The title track "My Country Song" is one of 12 cuts off the record that brings that new country rock sound to life. "We were looking for a few tracks to finish off the album and it just kind of fell in our laps" David remembers- "It just fits so nicely with all the other tunes on there, we had to record it".
The brand new 2012 release has a good mix of Nashville and Canadian players bringing the two unique country styles together. "I think Keith (Urban) would like it" David says "He has certainly been a big influence on me".
The majority of the album was penned by David himself alongside some long-time writing partners, but the addition of other tunes by established artists brings some nice credibility to it. Other songwriters of note include "Working Man Blues"-Merle Haggard, "My Country Song"-Brian Nutter (Keith Urban) and "Exactly What I Needed"- Mike Reno (Loverboy).
Filled with a great modern country rock feel and well produced, the new David St.Germain album has hit iTunes and it looks like we may have another winner.
###