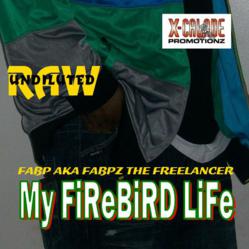 Miami, FL (PRWEB) February 17, 2012
Hip hop artist Fabp recently released his EP "My FireBird Life." Presented by Coast 2 Coast Mixtapes and X-Calade Promotionz, it is now available for free download. "My FireBird Life" features FabP on all-original tracks that have an underground/dancehall feel to them.
Fabp aka Fabpz The Freelancer (Pete Atkinson) began making beats and rapping officially in 2006. He spent a decade working at internships in New York City recording studios before deciding to venture out on his own as a recording artist and producer. The Jamaica, Queens native has several mixtapes featuring his original production by X-Calade Promotionz. Fabp is out to make a name for himself as a respected music producer as well as an artist. Even in the difficult climate that is the music industry nowadays, Fabp has been able to pursue his dream. "I am fortunate right now to be making a living on my own terms," he says, "but I have yet to completely realize the full scope of what I'm after. My objective is to introduce to the music industry refreshing new talent that I am constantly surrounded with…"
Because his biggest influences are dancehall and hip hop music, "My FireBird Life" showcases nine hardcore tracks that feature an underground and dancehall vibe.
"My FireBird Life" is available for free streaming and download at http://coast2coastmixtapes.com/mixtapes/mixtapedetail.aspx/fabp-aka-fabpz-the-freelancer-my-firebird-life-ep
###