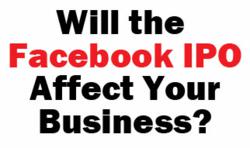 The Facebook IPO has more implications than that meets the eye - Kishore Dharmarajan
(PRWEB) February 19, 2012
While experts and the media debate the new Facebook IPO filing where the company seeks to raise $5 billion, the implication for marketers and advertisers remain largely hidden according to Kishore Dharmarajan, the creator of the GetExplosiveResults.com - Social Media blog.
As Kishore shared, "After working in the digital industry for the last 10 years, I was not surprised to see the excitement in the digital world in connection with the Facebook IPO, However, what took me by surprise was the fact that the implications for marketers and advertisers have been largely ignored."
"If you remember the Google IPO of 2004" says Kishore, "You will realize that the excitement and frenzy that we see today with the Facebook IPO is quite similar to what we had experienced in 2004. At that time, the Google IPO was one of Silicon Valley's most discussed, dissected and debated initial public offerings of stock."
"After the excitement died down, came the reality," Kishore continued, "we saw an increase in cost-per-click (cpc). To the uninitiated, Google Adwords is a bidding system that allows you put out ads on the Google search engine and the advertiser pays every time a net user clicks their ads. The cost per click is the basis measure of how much you pay for your ads. For millions of small business owners, Adwords is the lifeline of their business and the higher cpc meant they had to pay more to get customers."
"What makes the Facebook IPO even more crucial for small business owners and small advertisers, "Kishore revealed, "is the fact that Facebook is already a difficult advertising media to manage and the higher cpc that we are expecting post the IPO, is going to make advertising even more tough."
Facebook's advertising platform is similar to Google Adwords in being a pay-per-click (PPC) advertising channel, but lacks the depth of tools, analytical framework or traffic consistency that that makes Adwords so much more powerful.
"At the same time," kishore concluded, "Facebook's ability to target customers based on their likes and interests is a psychographic advantage that Adwords lacks. Facebook offers a friendly environment for marketers to pitch their wares in a relatively cozy and comfortable surrounding."
Kishore has released a new Social Media report that looks into the expected changes after the Facebook IPO, that can be downloaded from, http://www.facebook.com/socialmediamarketingdude
About:
Kishore Dharmarajan is the author of Sniper Marketing and a trusted authority on Social Media Marketing and Digital Marketing. Besides Sniper Marketing, Kishore Dharmarajan has published two books including Eightstorm: 8 Step Brainstorming for Innovative Managers, Beyond Guerrilla Marketing, How to Think & Innovate Like Steve Jobs and has spoken in front of thousands on such topics as Social Media Marketing and Digital Marketing.
###