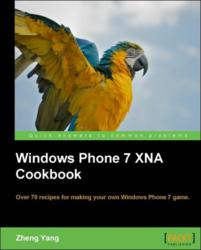 UK (PRWEB) February 18, 2012
Birmingham: Packt is delighted to announce the publication of the Windows Phone 7 XNA Cookbook, a comprehensive guide filled with indispensable techniques to create games using XNA 4.0 . The book and eBook is available from Packt Publishing and other leading retailers.
XNA Game Studio enables hobbyists and independent game developers to easily create video games. XNA lets developers bring their creations to life on Windows, the Xbox 360 and the Windows Phone platforms. Windows Phone 7 is a mobile operating system developed by Microsoft, and is the successor to its Windows Mobile platform, primarily aimed at the consumer market rather than the enterprise market .
Filled with practical recipes, this cookbook covers all the essential areas of XNA game development for windows phone 7 development, such as approaches to controlling the sensors, gestures and typical kinds of cameras. The book moves from basic guides such as animating a 2D sprite and interacting with the customized graphical user interface to the more challenging - such as 3D graphic rendering and collision detection.
Useful recipes that pertain to improving loading efficiency, taking a game global with Xbox live, performance optimization, and other advanced features have also been explained in the book in a detailed manner. This book is loaded to the brim with recipes for tackling the next generation of mobile games.
Packt Publishing has also released and is due to publish other similar titles:

XNA 4.0 Game Development by Example: Beginner's Guide
Microsoft XNA 4.0 Game Development Cookbook (Due June 2012)
All XNA and Windows phone 7 books are published by Packt Enterprise. Packt Enterprise is a publishing division of Packt Publishing designed to serve the information needs of IT Professionals in the Enterprise space. Packt Enterprise also publishes on Microsoft, Windows 7, ASP.NET, Oracle, Citrix, Java, Amazon, Google and SAP technologies.
###