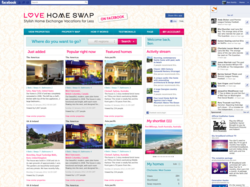 There are real synergies in the behaviour of Love Home Swap members and Facebook users, including photo sharing and story swapping.
Brighton, UK (PRWEB UK) 17 February 2012
Breakthrough home-swap holiday company Love Home Swap has announced new social innovations that will enrich the existing home-swap experience and attract new audiences to this growing travel trend. Via its website – http://www.lovehomeswap.com – the company enables holiday home-swaps for its thousands of members in over 80 countries worldwide. For those considering or new to house swapping USA, Australian and French properties are among the most popular, but Love Home Swap caters for all tastes, offering properties ranging from castles in Mexico to yurts in Scotland among its stylish listings.
In the UK alone, over 3.2 million people are planning a home-swap holiday in 2012 – that's twice as many as in 2011. Love Home Swap's Chief Marketing Officer, Ben Wosskow, sees social sophistication as key to turning the growing trend into a mainstream travel choice. He said: "Quality and trust are essential parts of any successful collaborative model and both our Facebook project and Trust Centre put us at the forefront of our sector and the social travel sphere. What we are doing socially and via our Trust Centre means we can deliver the most positive, intuitive and confident home-swap holidays possible, and a truly collaborative and contemporary travel choice."
Love Home Swap became the world's first socially connected home-swap site earlier this month, when it launched a Facebook Connect feature that enables members to connect with Facebook friends, and friends of friends, to view listed properties. Now, Facebook Connect is complemented by the launch of a fully transactional Love Home Swap Facebook app and dedicated Trust Centre.
The Facebook app, which live-streams activity through relevant feeds and status updates, will amplify Love Home Swap's presence across Facebook and enable newcomers to discover more about home-swapping and browse thousands of stylish properties. Existing members will benefit from the app's seamless delivery of the Love Home Swap service via Facebook.
The developments will take home-swap holidays to a broader, socially connected audience that Wosskow has identified shares complementary behavioural traits that will work to naturalise the process of holiday home-swapping. He explained: "There are real synergies in the behaviour of Love Home Swap members and Facebook users, including photo sharing and story swapping. Our digital strategy plays to this synergy."
Enhanced benefits for swappers continue through Love Home Swap's development and roll out of a dedicated Trust Centre – a home-swap sector first – that helps users to find out more about the company's properties and swappers and includes a star-badge rating system to identify the 'most trusted' swappers.
Love Home Swap users can now search properties based on a swapper's response rate, testimonials added or received and their Facebook Connect status. The Trust Centre also shows which property owners have authenticated themselves via Love Home Swap's unique Experian-powered authentication service, ushering in a new level of security to attract first-time swappers.
The announcements come just weeks after Love Home Swap announced its $1.3 million backing by investment firm MMC Ventures, which will drive its continuing social development. The next phase will see deeper Facebook integration within the main Love Home Swap site, socialising all key actions across the service (viewed, liked, shortlisted) and enabling members to both add each other as friends and click to Skype.
Wosskow sees Love Home Swap's social innovation and focus on building trust as central to its success and continuing growth. He commented: "Home-swapping is an inherently social phenomenon that depends on trust; the web and social networking sites have enabled a 'share' economy that encourages cross-continental communication. We're natural bedfellows! Continuing to build trust online is a key driver for our growth; often it's the 'not knowing' of the other person in the swap that can be the stumbling block to taking part. Our technical innovations bring down those barriers to swapping and make people feel comfortable, connected and confident."
About Love Home Swap:
Love Home Swap offers an all-new version of an age-old tradition – enjoying free vacations through stylish home exchanges around the world.
Millions of people are home exchanging already through friends and family. But until now, only those in the know could find their dream swap holidays via the web.
Now Love Home Swap is empowering holidaymakers all around the world by putting money back in their pockets and connecting them with the best community of stylish home swaps ever assembled.
###