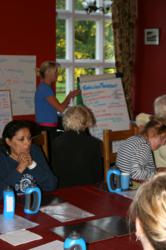 UK's Best Weight Loss Retreat
(PRWEB UK) 18 February 2012
Both FitFarms venues, in the Peak District & Exmoor, now provide bath robes and toiletries in the lovely en-suite rooms - personal touches to the accommodation in order to make the 7 night fitness retreat experience more luxurious.
The Housekeepers are important members of the FitFarms team, working hard to make the environment clean and comfortable, and the rooms a 'haven' for the clients throughout their weight loss retreat stay.
In 2012, FitFarms are also are determined to help clients understand that simply exercising more and eating less is not always enough. Addressing the relationship with food is as important and FitFarms provide individual life coaching and guidance, with top professional staff always at hand to support. The after care programme has proved successful and FitFarms have introduced a fortnightly newsletter, monthly healthy recipes and tips to help clients stay on track. This is in addition to on line support available for all holistic boot camp attendees at any time.
At FitFarms there is an individual approach to the client's nutrition, exercise and life style. The staff concentrate on the client's all important relationship with food and how to improve everyone's self esteem. A life changing experience has been reported by the majority of attendees.
Individual programmes get results and at FitFarms the average weight loss is at least 7/8lbs and throughout the week clients are cared for and encouraged every step of the way. Clients will certainly work hard to achieve their goal but being treated as an individual by the staff and life coaches, gets great results. Clients are never made to feel uncomfortable or self conscious. Safety and well being is paramount.
FitFarms are also continuing with a few weight loss boot camp Mixed Courses in 2012. The course at the end of last year proved so successful. Partners, spouses and siblings are finding achieving a goal together is easier and very rewarding.
The average weight loss at the fitness retreat is over 7 pounds but FitFarms now has a new programme called FitFarms Club. This new programme is an aftercare service that is provided free of charge to help guest reach their long term goals post the weight loss retreat.
Returnees are also welcome at a special reduced rate. Some booking to refresh and get back on track or just getting fit for a special occasion. FitFarms are going from strength to strength and the feed back and testimonials on the web site are excellent.
# # #