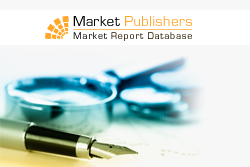 London, UK (PRWEB) February 17, 2012
When the Dornbirn Man-Made Fibers congress was first launched in the early 1960s, synthetic fibres represented just 5% of total fibre production, but today they account for over half and this share is set to rise even further in the coming years.
New research report "Outlook for Man-Made Fibres and Technical Textiles: Report from the 50th Dornbirn Congress" drawn up by Textiles Intelligence has been recently published by Market Publishers Ltd.
Report Details:
Title: Outlook for Man-Made Fibres and Technical Textiles: Report from the 50th Dornbirn Congress
Published: February, 2012
Pages: 20
Price: US$ 520
http://marketpublishers.com/report/consumers_goods/textile/outlook_4_man_made_fibres_n_technical_textiles_report_from_50th_dornbirn_congress.html
The newly published report reviews and analyses several papers presented at the 50th Dornbirn Man-Made Fibers congress, held in September 2011, on the key topics, including:

cotton and man-made fibre demand to 2060 by country and region, and future limitations on the supply of cotton;
reviews of some of the latest developments in cellulosic fibres, biopolymers and polyester recycling from a number of companies, including Advansa, DuPont, Filature Miroglio, Hohenstein Institute, Kelheim, Lenzing, NatureWorks, RadiciGroup, Rhodia, RWTH Aachen University, STFI and TITK;
outlook for the future which looks at the role of green chemistry and the future challenges facing the man-made fibre industry.
Report Contents:
Summary
Introduction
Fibre Demand to 2060
Cotton
Man-made fibres
Man-made fibre demand by country and region
Australia, Canada and the USA
Western Europe, Eastern Europe and Turkey
Far East (excluding China and South Asia)
China
South Asia (excluding India)
India
Africa, Latin America and the Middle East
Man-made fibre demand by end use
Demand for man-made filament yarns versus spun yarns
The Cellulosic Gap
New Cellulosic Fibres
Hohenstein Institute, STFI and TITK: Alceru
Kelheim: Verdi
Lenzing: high visibility Lenzing FR
TITK: Tencel nanocomposites
Polylactic Acid (PLA) Biopolymer Update
NatureWorks: Ingeo
RWTH Aachen University: polylactic acid (PLA) microfilaments for wipes
Polyester Recycling
Advansa: investment in polyester recycling technology
DuPont: expansion for renewably-sourced Sorona polymer
Filature Miroglio: Newlife
RadiciGroup: 204 Programme to achieve sustainability
Rhodia: far infrared (FIR) for wellbeing
Outlook
50 Years of Man-made Fibres
A need for visionary thinking
The role of green chemistry
Future challenges
Growing pressures from environmental regulations
Competition from low cost countries, especially China
Competition from subsidised fibres
The future lies in exporting more
Problems arising from demographic trends
List of Tables
Table 1: The cellulosic gap in global fibre production, 2000-20
More new research reports by the publisher can be found at Textiles Intelligence page.
###