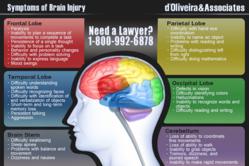 Providence, RI (PRWEB) February 21, 2012
Impact to the head in an auto accident can cause the victim to have a traumatic brain injury (TBI), which is a permanent and devastating injury. d'Oliveira & Associates is assisting clients who have head injuries with their legal claims to compensate them for their injury.
When a person is in a car accident, they may not initially know that they have a head or brain injury. The brain can be injured even if an MRI or CAT scan returns normal results. Brain injuries manifest in a multitude of ways and have a wide range of symptoms. Some of the more common symptoms of a head injury after an auto accident include: headaches after an accident, dizziness after an accident, memory loss after an accident, mood swings, slurred speech, numbness, or disorientation.
Personal Injury Lawyer
In an automobile accident, there are three different ways that a person in a vehicle can sustain a head injury. The first is an open head injury, where an object penetrates the victim's skull. This can occur either from a projectile within the vehicle colliding with the skull of from the impact of the skull onto the vehicle itself. Another type of head injury is a closed head injury, which occurs often in motor vehicle accidents when the skull strikes a solid object, but there is no penetration of the skull. The final type is a deceleration injury, which occurs when the head is rapidly moved, and the brain moves within the skull. This can occur in an accident, due to the trauma from the movement of the car.
A severe brain injury can result in the injured person being in a permanent comatose state after the accident. However, even a "mild" brain injury can have devastating, permanent effects on a person's life. A mild brain injury can cause an individual to experience permanent changes in mood, personality, cognitive abilities, and their ability to carry out everyday tasks.
The cost of caring for a family member with a brain injury can have a catastrophic financial toll on a family.
For more information about auto accident claims or to schedule a free consultation, please call the law offices of d'Oliveira & Associates, P.C. toll-free at 1-800-992-6878 or visit RI Head Injury Lawyer
###