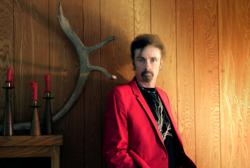 St. Louis, MO (PRWEB) February 17, 2012
The St. Louis County Library Foundation is pleased to present celebrated novelist T. C. Boyle for a discussion and signing of his latest novel "When the Killing's Done" on Thursday, March 15, at 7:00 p.m. at Library Headquarters, 1640 S. Lindbergh Blvd.
The program is free and open to the public. Books will be available for purchase at the event from Barnes & Noble.
T. C. Boyle has been described as "America's most imaginative contemporary novelist" (Newsweek) and "as fearless a writer as any working today" (The Los Angeles Times). Boyle has written 12 hugely influential and bestselling novels, including "The Tortilla Curtain," "The Women," and "Drop City," a National Book Award finalist. His stories have been published in The New Yorker, Harper's, Esquire, The Atlantic and The Paris Review.
In "When the Killing's Done," Boyle presents an action-packed adventure about endangered animals and those who protect them. California's Channel Islands have been called the Galapagos of North America because their very isolation has helped preserve over 1,000 species of plants and animals, 12 of which are found nowhere else on earth. In Boyle's hands, the islands become the setting for a dramatic showdown between two factions of environmentalists, each utterly convinced of their beliefs in preserving the islands and the natural world.
In this powerful and visionary novel, Boyle showcases his talents for combining suspense with a socially conscious tale that gives no easy answers. "When the Killing's Done" poses two sets of characters against each other--neither of whom can simply be dismissed as the "villain." On the one side is Alma Boyd Takesue, a National Park Service biologist who is spearheading her team's effort to save the island's endangered native creatures from invasive species like rats and feral pigs by calling in hunters to eliminate them. On the other side is Dave La Joy, a dreadlocked BMW-driving local businessman who is fiercely opposed to killing any species whatsoever and will go to any lengths to subvert the plans of Alma and her colleagues.
Into this set up, Boyle injects as much drama and gripping adventure as he's ever done before in a novel, while at the same time never losing sight of the important questions being raised about humankind's attempts at dominion over nature and, ultimately, our place in the wild.
Program sites are accessible. Upon two weeks notice, accommodations will be made for persons with disabilities. Contact St. Louis County Library by phone 314-994-3300 or visit http://www.slcl.org.
# # #