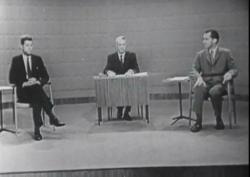 It turned out to be one of those fortuitous moments in history.
(PRWEB) February 18, 2012
Long before Facebook there was the Kennedy/Nixon debate of 1960. It was this debate that shaped the future of American politics.
Listeners who had tuned into the debate by radio thought John F. Kennedy and Richard Nixon were evenly matched; but about 70 million television viewers saw a different story. Kennedy looked well put together whereas Nixon seemed mismatched and unprepared for the event.
Now over 50 years since this momentous event in American history, one company is leading the charge to bring public awareness to what they believe to be a forgotten element: The Hans Wagner Round Chair.
"Prior to the debate," explains Moshe Melamed co-owner of LexingtonModern.com—a leading mid-century modern classic furniture retailer—"Kennedy had ordered these chairs to ease his aching back during the debate. It turned out to be one of those fortuitous moments in history. While sitting his posture was just better. He looked presidential."
"Throughout history you could always tell a real leader by how they sat on their chair or throne. Did they look distinguished and venerable or slouchy?"
To celebrate Presidents Day, LexingtonModern.com is offering the "Presidential Debate" chair for half price. In addition, on their Facebook page they will be hosting a survey about posture. "We are asking people to vote on who they think has the most presidential posture," Melamed said. "Governor Mitt Romney or Senator Rick Santorum. One participant will receive a chair so they can practice their own "presidential" posture at home."
When asked about President Obama, Melamed quipped, "everyone knows the picture of him in the Oval Office with his feet on the desk and reclining backward. While that may be good for blood circulation, this survey is about sitting upright."
ABOUT LEXINGTON MODERN: Founded in 2005, Lexington's array of mid-century classics has found a following among dozens of interior designers, movie and TV studios and Fortune 500 office buildings. Their products have been featured on Clean House, The Biggest Loser, MLB Fan Cave, NBC and many others media outlets. Lexington Modern is now a division of a collection of specialty furniture sites named SugarStores.com.
###