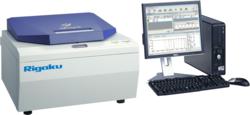 Austin, TX (PRWEB) February 22, 2012
Applied Rigaku Technologies, Inc. has announced a new method, detailed in Rigaku Application Note #1054, for the analysis of thin metallic films on silicon wafers. Empirical calibrations are demonstrated for SiO2, AlSi, Ti, TiN, Pt, AlCu, and BPSG single layer films on silicon monitor wafers for quality control in the semiconductor industry.
Semiconductor integrated circuit device manufacturing involves the sequential application of multiple layers of material to complete the assembly, and process control in manufacturing is critical. With little margin for error in the processing of semiconductor materials, film thickness and composition metrics are vital to proper device performance. Any errors during construction can lead to product failure or degradation, as well as undesirable effects in future processing.
All single layer films were deposited on silicon monitor wafers with 1000 Å of SiO2 (used as an adhesion layer). To demonstrate the performance of NEX CG a series of 6 different calibrations were developed for the thickness of the films AlCu, AlSi, Pt, Ti, and TiN. BPSG composition was determined by measuring P, and the B:P ratio was constant at 1:1.
This report may be requested at: http://www.rigakuedxrf.com/edxrf/app-notes.html?id=1054_AppNote
About Rigaku
Since its inception in Japan in 1951, Rigaku has been at the forefront of analytical and industrial instrumentation technology. Rigaku and its subsidiaries form a global group focused on life sciences and general purpose analytical instrumentation. With hundreds of major innovations to its credit, Rigaku and its subsidiary companies are world leaders in the fields of small molecule and protein crystallography, X-ray spectrometry and diffraction, X-ray optics, as well as semiconductor metrology. Rigaku employs over 1,100 people globally and its products are in use in more than 70 countries – supporting research, development, production control and quality assurance activities. Throughout the world, Rigaku continuously promotes partnerships, dialog, and innovation within the global scientific and industrial community.
For further information, contact:
Scott Fess
Product Manager
Applied Rigaku Technologies, Inc.
tel: +1. 512-225-1796
info(at)RigakuEDXRF(dot)com
###