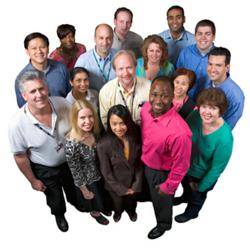 Oftentimes, management and human resources personnel are far too close to the company to consider strengths and weaknesses objectively.
Winnipeg, MB (PRWEB) February 22, 2012
Recent history has been marred by stories and scandals in the business world that seem to pit employers against their employees. It`s easy to see how worker confidence, even on a management level, would spiral downward in the face of a global recession and tales of economic doom. And according to HR solutions firm People First HR Services, a highly engaged workforce is a definite contributing factor to the success of any company, large or small. And their new HR services can help companies with this. Achieving a highly engaged workforce, says People First, has a lot to do with the recruitment and career development of employees. When great employees are selected and become truly engaged in a positive company culture (one that helps them reach their potential), productivity often goes through the roof. And if they are not great employees, change management needs to be effective. But HR consultants like People First find it often takes a little help and guidance to achieve higher growth and profits through engaged employees.
It all begins with the recruiting process. You can`t expect to have engaged employees without first hiring the right type of people. That`s partly why firms like People First HR Services exist – to match employees with employers effectively. It is important to consider a company`s style of leadership, corporate culture and ultimate needs when selecting potential employees. Through a series of finely-tuned processes, consultants try to find the perfect fit for a company, rather than simply referring candidates. The trick is in uncovering hidden talent in a pool of potential employees and then matching "personality" types.
But hiring and firing employees and managers is not where the process of maintaining a healthy workforce ends. After successful candidates are found the tasks of retaining and engaging the new employees begin. Success with any employee`s performance is usually based on how well that employee fits into the company`s culture. The congruence of management style and an employee`s most efficient working style is also important. This is often done post-hiring and any HR services firm worth its weight will schedule a follow-up to see how things are going.
"We will schedule a `post-project` debrief meeting with [clients] to review the successes and any challenges of the project," according to People First HR Services. "We want the new hire to be a long term addition to [the] team…" they say. And that's where the services offered by companies like People First are important. It is much easier and more cost-effective to retain a good employee than to recruit a new one.
But to truly bridge the gap between employees and employers requires a strong leadership team that is engaged and committed to the company's values and to their employees. Problems arise, however, when trying to accomplish this internally. Oftentimes, management and human resources personnel are far too close to the company to consider strengths and weaknesses objectively. With the help of outside human resources consultants, however, companies can truly create a healthy workplace, develop talent from within and build organizational readiness – all important factors to the long term success of employees and the overall company as a whole.
"It cannot be all about simply hiring talent," says a People First HR representative. "We offer our clients effective solutions from beginning to end – from recruiting to career management and even human resource consulting. Paying attention to all these different aspects is essential to real success from a company's employees." It's not a stretch to imagine how good employee performance turns into growth and prosperity for a company. And in this uncertain economic time, anything that can help sustain growth and success is definitely worth a try. To learn more about human resources consulting, career development, recruiting and how they can help your company grow, visit http://www.peoplefirsthr.com.
# # #