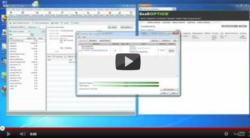 Atlanta, GA (PRWEB) February 17, 2012
"QuickBooks is the most popular financial management solution for young software and SaaS companies, but it doesn't handle deferred revenue, revenue recognition, subscription renewals, nor invoice scheduling," stated David Ryan CEO SaaSOptics. "Until today, companies have had to rely on cumbersome and problematic spreadsheets for subscription and revenue management, or they have had to take a gigantic step to a significantly more expensive and cumbersome system."
"We've been helping SaaS and other subscription customers with financial analysis, subscription analysis, and revenue reporting for about a year now, " added Clayton Whitfield, CTO SaaSOptics. "Many existing and prospective SaaSOptics customers use QuickBooks and asked if we could integrate the systems. Instead of a simple integration, we developed RevenueBooks, a cloud platform that combines QuickBooks and SaaSOptics in such a way as to create a 'virtual' enterprise-class revenue management system. The solution provides an auditable revenue and subscription management solution at a fraction of the cost and effort of any mid-market finance system capable of supporting revenue recognition. With RevenueBooks, QuickBooks remains your financial system of record, financial reporting tool, banking, GL, AR, and AP system. SaaSOptics provides all the missing and auditable details involving revenues, and it continues to provide comprehensive subscription management and analytics. It's a perfect combination."
RevenueBooks syncs your QuickBooks desktop data to a cloud-based SaaSOptics account. Once in SaaSOptics, QuickBooks data is augmented with information required for revenue and renewal management. For instance, revenue recognition templates and billing schedules are applied to QuickBooks Items. These augmented Items play a key role in the creation and management of the missing information needed for complete revenue management: contract element transactions, expiration dates, billing schedules, and revenue schedules.
With contract element transactions, revenue schedules, and invoices, SaaSOptics has each of the components needed to generate the revenue recognition journal entries for QuickBooks. RevenueBooks then handles syncing to QuickBooks the revenue journal entries for your income statement, and deferred revenue and unbilled AR journal entries for your balance sheet.
RevenueBooks is scheduled for release on February 27, 2012.
About SaaSOptics
SaaSOptics provides financial management and analytics tools for SaaS, software, and other recurring revenue businesses. SaaSOptics ensures your team has access to the correct targets, results, and projections, including churn, mrr, renewal rates, bookings, revenues, and countless other metrics needed to manage a subscription business. SaaSOptics is delivered as a SaaS solution. SaaSOptics is a private, Atlanta-based company.
###