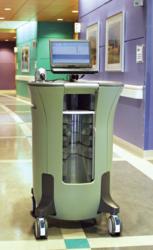 We wanted a secure drug-tracking system yet we needed to be fiscally responsible. We almost gave up until we learned about MedRover.
Denver, CO (PRWEB) February 23, 2012
Swisslog, a leading provider of automated materials transport and medication management solutions for hospitals, today announced that Webster County Community Hospital in Red Cloud, Neb., has purchased MedRover™ mobile dispensing cabinets. The order is the first for Swisslog's innovative new medication management solution in the critical-access healthcare market.
MedRover is a mobile dispensing cabinet that offers stationary cabinet-level security with the mobility of a cart, enabling nurses to securely store and administer medications, including narcotics, at the patient bedside. MedRover is the only mobile medication dispensing solution of its kind.
Bedside verification initiatives prompted the hospital to look for an affordable and safe solution that would let nurses verify patient identification and medication prior to administration at the bedside. The MedRovers will interface with the hospital's information system to provide complete electronic records of all medication administration events.
"Last summer we were searching for an automated drug dispensing system with the hope of moving forward to meet Meaningful Use. We wanted a secure drug-tracking system yet we needed to be fiscally responsible. We almost gave up until we learned about MedRover," Nursing Director Candy Peters said. "MedRover is exactly what we wanted. It's small, easy to maneuver, interfaces with our existing computer system, and allows us to have reliable tracking of any administrations."
Implementation of the MedRovers was completed in late January.
Swisslog Healthcare Solutions is the leading supplier of logistics automation solutions for healthcare facilities. Swisslog has installed automated materials transport and medication management systems in more than 3,000 hospitals around the world, including more than 2,000 in North America. Swisslog offers total systems design, manufacturing, installation and customer support providing a complete supply chain management approach to the logistics challenges of hospitals. The North American division of Swisslog Healthcare Solutions is based in Denver, CO.
About Webster County Community Hospital
WCCH is a leader in rural healthcare. The hospital has grown from a small house to become the area's leading critical-access hospital. Webster County Community Hospital is committed to providing quality care in a professional and caring manner, promoting wellness, education, preventative care and rehabilitation for residents of Webster County, Neb., and surrounding areas. For more information visit http://www.websterhospital.org.
About Swisslog
Swisslog is a global provider of integrated logistics solutions for warehouses, distribution centers and hospitals. Its comprehensive services portfolio ranges from building complex warehouses and distribution centers to implementing Swisslog's own software to intra-company logistics solutions for hospitals.
Swisslog's solutions optimize customers' production, logistics and distribution processes in order to increase flexibility, responsiveness and quality of service while minimizing logistics costs. With years of experience in the development and implementation of integrated logistics solutions, Swisslog provides the expertise that customers in more than 50 countries rely on.
Headquartered in Buchs/Aarau, Switzerland, Swisslog currently employs over 2,000 staff in about 20 countries worldwide. The group's parent company, Swisslog Holding AG, is listed on the SIX Swiss Exchange (security number: 1232462, Telekurs: SLOG, Reuters: SLOG.S). For more information, visit http://www.swisslog.com.
###