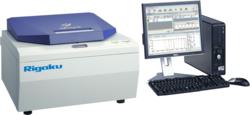 Austin, Texas (PRWEB) February 21, 2012
Applied Rigaku Technologies, Inc. today announced a fast and simple method for the measurement of heavy metals in aerosols on air filters. The new method is detailed in Application Note #1061 and demonstrates the effectiveness of the Rigaku NEX CG energy dispersive X-ray fluorescence (EDXRF) spectrometer for the analysis of atmospheric particulates. Monitoring such emissions is essential in industrial manufacturing, coal-fired power plants, chemical and plastics production and other areas in order to quantify air pollution and maintain compliance with US EPA and other world and regional governing regulations concerning the airborne release of toxic metals.
Element analysis of aerosols and particulate matter released by smokestacks, and other industrial gas discharge, is critical to ensure that toxic and hazardous elements are not released into the air improperly nor exceed environmentally acceptable levels. The Rigaku the NEX CG EDXRF analyzer, with polarized and secondary target excitation, is shown to be a powerful tool to help ensure compliance while enabling both analysts and technicians to easily conduct the required analytical protocols.
The method shown utilizes a combination of secondary target excitation, with a high resolution silicon drift detector (SDD), to deliver optimal EDXRF sensitivity and selectivity for the measurement of metals in aerosols on air filters, including chromium (Cr), gallium (Ga), arsenic (As), selenium (Se), silver (Ag), cadmium (Cd), barium (Ba) and lead (Pb). The NEX CG analyzer is capable of analysis of elements from Na – U, making the XRF technique ideal for other elements on air filters, as well.
A copy of this report may be requested at:
http://www.rigakuedxrf.com/edxrf/app-notes.html?id=1061_AppNote
About Rigaku
Since its inception in Japan in 1951, Rigaku has been at the forefront of analytical and industrial instrumentation technology. Rigaku and its subsidiaries form a global group focused on life sciences and general purpose analytical instrumentation. With hundreds of major innovations to its credit, Rigaku and its subsidiary companies are world leaders in the fields of small molecule and protein crystallography, X-ray spectrometry and diffraction, X-ray optics, as well as semiconductor metrology. Rigaku employs over 1,100 people globally and its products are in use in more than 70 countries – supporting research, development, production control and quality assurance activities. Throughout the world, Rigaku continuously promotes partnerships, dialog, and innovation within the global scientific and industrial community.
For further information, contact:
Scott Fess
Product Manager
Applied Rigaku Technologies, Inc.
tel: +1. 512-225-1796
info(at)RigakuEDXRF(dot)com
###