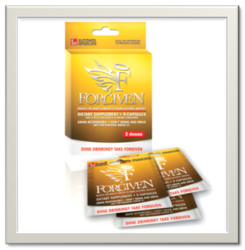 Las Vegas, Nevada (PRWEB) February 20, 2012
Forgiven, distributed by RH Laboratories, has announced a new sponsorship deal with UFC fighter Scott Jorgensen.
Jorgensen, nicknamed "Young Guns", is consistently ranked one of the best bantamweight fighters in the world. He's a member of the Twisted Genetiks Fight Team based out of Boise, Idaho and has been fighting since 2006. His current record is 13-5.
A part of the sponsorship, Jorgensen will sport Forgiven apparel during training sessions. He'll also be promoting the brand through various social media channels.
"We're proud to add Scott to the Forgiven team of athletes," says Forgiven Bottling Group President, Chas Aday. "He's a very accomplished fighter and we're honored and excited to support him!"
About Forgiven Bottling Group
Chas Aday and TJ Lavin formed Forgiven Bottling Group in 2009. Their product, Forgiven, is the first and only product on the market that has been shown to increase the rate at which the body processes alcohol. In the initial clinical trial, the average increase in metabolic rate was over 500 percent. The product's proprietary blend of all-natural ingredients includes organic acids, amino acids, vitamins, and herbs that increase the body's metabolic rate while restoring the necessary amounts of essential vitamins and nutrients.
About RH Laboratories
RH Laboratories manufactures RockHard Weekend, an all-natural male sexual performance enhancer as well as Pandora, an all-natural sexual enhancer for women. RH Laboratories is constantly using innovative techniques to promote their products not only as supplements but also as a lifestyle. In addition to the products RH Labs manufactures, they are the exclusive distributor of Forgiven, the world's first alcohol metabolizer.
###