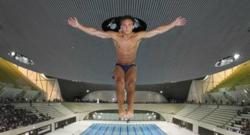 I am sure that this World Cup will also be a milestone and I look forward to witnessing the performances of our best athletes next summer during the Olympic celebration.
(PRWEB) February 17, 2012
Over 250 of the world's best divers will compete at the 18th FINA Visa Diving World Cup 2012 from 20-26 February, the last qualification opportunity for the London 2012 Olympic Games.
Amongst the world-class line up are Chinese Olympic champions He Chong and Chen Ruolin. Chong is 2008 Olympic individual 3m Springboard gold medallist and three-time world champion while Ruolin is double Olympic champion, winning both the 10m Platform and Synchronised 10m Platform.
China is known as the dominant force in Diving but Matt Mitcham, who will represent Australia at the test event, could threaten their hopes for a gold rush at the World Cup. Mitcham became the only non-Chinese athlete to win a Diving gold medal at the Beijing Olympic Games when he won the Individual 10m Platform.
The British team have named 13 athletes, including Synchronised 10m pair Tom Daley and Pete Waterfield and rising star Jack Laugher, who is current Junior World Champion in both the Individual 3m Springboard and Individual 1m Springboard. Tonia Couch, Britain's most celebrated female diver who placed eighth in the Individual 10m Platform at the Beijing Games and has finished in the top 10 in the last two FINA World Championships, will also line up for GB.
The competition, which is part of the London Prepares series of test events and supported by Visa, UK Sport and British Swimming, will be the first sporting event to be held at the spectacular Aquatics Centre and the 31st test event to be staged by the London 2012 Organising Committee (LOCOG).
The event will test key elements of the venue operation and logistics such as lighting, results, scoring, workforce and timing while providing an ideal opportunity for athletes and team officials to compete at the venue ahead of the 2012 Games and offer feedback on LOCOG's plans.
London 2012 Director of Sport Debbie Jevans said: 'With less than 200 days to go until the start of the Games our testing continues to be a priority. Welcoming spectators into the Aquatics Centre for the 18th FINA Visa Diving World Cup 2012 will give a fantastic opportunity to see the world's best divers compete in an Olympic venue and will also provide us, the organisers, with a unique chance to test our operations.'
FINA President Dr. Julio C. Maglione said: 'We are very happy to be here in London for this FINA Diving World Cup, which also constitutes a Test Event for the 2012 Olympic Games in this exciting city. FINA and LOCOG have worked very closely during the past years and months and it is now time to see if this hard work is fruitful. From everyone's feedback on the Aquatic Centre, this facility is amazing and will certainly constitute an asset for the success of FINA's disciplines at Games time. I am sure that this World Cup will also be a milestone and I look forward to witnessing the performances of our best athletes next summer during the Olympic celebration.'
UK Sport's Director of Major Events and International Relations, Simon Morton, said: 'The FINA Visa Diving World Cup in London will be the fifth diving event, and the 11th aquatics event, UK Sport has supported through our Lottery funded Major Events Programme since 2007.
'Competing at the Olympic venue represents a fantastic opportunity for our athletes, while the experience will be invaluable to our coaches and support staff, to help ensure they are best prepared for the home Olympic and Paralympic Games in London in less than six months time.'
Colin Grannell, Head of Partnership Marketing at Visa Europe said: 'As a sponsor of the Olympic Games for more than 25 years, we know that the 18th FINA Visa Diving World Cup 2012 will be a great opportunity for people to preview of one of the most popular competitions of the Olympic Games. This qualifying event will be crucial for Team 2012 and international athletes to reach their goal of competing this summer.'
David Sparkes, British Swimming Chief Executive, said: 'We are really excited about the upcoming 18th FINA Visa Diving World Cup. This event, which will be the first major event in the London 2012 Aquatics Centre, will showcase most of the World's Diving stars.
'What a great opportunity this will be for our GBR Diving Team to take on some of their competitors in the Olympic venue and give us all an insight to what the Olympics will all be about.'
For more information, visit http://www.londonpreparesseries.com/diving.
Notes to editors:
For further information please contact the London 2012 Press Office.
FINA
The Fédération Internationale de Natation, FINA (founded in 1908) is the governing body for aquatics worldwide. Its five disciplines - Swimming, Open Water Swimming, Diving, Water Polo and Synchronised Swimming - are all included in the Olympic programme. FINA organises World Championships, World Swimming Championships in 25m-pool and World Masters Championships every two years. FINA counts 202 affiliated National Federations on the five continents and has its headquarters in Lausanne (SUI).
About Visa Europe
In Europe, there are 445 million Visa debit, credit and commercial cards. In the 12 months ending September 2011 those cards were used to make purchases and cash withdrawals to the value of €1.7 trillion. 14% of consumer spending at point of sale in Europe is with a Visa card, and almost 80% of that is on Visa debit cards.
Visa Europe is owned and operated by more than 3,700 European member banks and was incorporated in July 2004. Visa Europe is independent of global Visa Inc., with an exclusive, irrevocable and perpetual licence in Europe, while both companies operate to ensure global interoperability. As a dedicated European payment system Visa Europe is able to respond quickly to the specific market needs of European banks and their customers - cardholders and retailers - and to meet the European Commission's objective to create a true internal market for payments.
Visa enjoys unsurpassed acceptance around the world. In addition, Visa/PLUS is one of the world's largest global ATM networks, offering cash access in local currency in over 200 countries.
About Team 2012
Team 2012 presented by Visa is a fundraising programme designed to provide UK athletes with the tools and support to reach their full potential and win more medals at European Championships, World Championships – and of course at the London Olympic Games and Paralympic Games in 2012. It is a joint venture between the British Olympic Association, ParalympicsGB, UK Sport and LOCOG. Alongside the vital role played by The National Lottery and Exchequer funding, Team 2012 will help fund our athletes over the next two years. The vast majority of funds raised through Team 2012 will be distributed by UK Sport through its World Class Performance Programme which ensures that the UK's most talented athletes have every chance of reaching their potential. Having run their programme since 1997, UK Sport has developed a highly successful 'No Compromise' approach, which ultimately means taking no short cuts in resourcing the best athletes to realise their medal ambitions. Funding is provided to athletes via their sport's governing body, in support of a performance programme that includes coaching, training and competition support, medical and scientific services and equipment and access to the best facilities.
UK Sport
UK Sport's World Class Events Programme distributes approximately £3.5 million of Lottery funding each year to support the bidding and staging costs of major events on home soil, as well as providing specialist support to organisers. Ahead of London 2012, events are supported primarily based on their likely performance impact, but consideration is given to the broader impacts of events: to maximise the wider sporting, social, cultural, economic and environmental benefits, as well as sporting performance and legacy.
Over 100 events, hosted by at least 35 different towns and cities, will have been supported from 2007 until the London 2012 Olympic and Paralympic Games. These competitions will have attracted around 30,000 athletes and provided opportunities for over 27,000 officials and volunteers to gain international sporting experience and develop key skills ahead of London 2012.
About British Swimming
British Swimming is the National Governing Body for Swimming, Diving, Synchronised Swimming, Water Polo and Open Water in Great Britain. It is responsible internationally for the high performance representation of the sport. The members of British Swimming are the three Home Countries national governing bodies of England (ASA), Scotland (Scottish ASA) and Wales. (Welsh ASA) British Swimming seeks to enable its athletes to achieve gold medal success at the Olympics, Paralympics, World Championships and Commonwealth Games.
London 2012 Games partners:
The Worldwide Olympic Partners who support the London 2012 Olympic Games and the National Olympic Committees around the world are Coca-Cola, Acer, Atos, Dow, GE, McDonald's, Omega, Panasonic, Procter and Gamble, Samsung and Visa.
LOCOG has seven domestic Tier One Partners - adidas, BMW, BP, British Airways, BT, EDF and Lloyds TSB. There are seven domestic Tier Two Supporters – Adecco, ArcelorMittal, Cadbury, Cisco, Deloitte, Thomas Cook and UPS. There are now twenty-eight domestic Tier Three Suppliers and Providers – Aggreko, Airwave, Atkins, Boston Consulting Group, CBS Outdoor, Crystal CG, Eurostar, Freshfields Bruckhaus Deringer LLP, G4S, GSK, Gymnova, Heathrow Airport, Heineken UK, Holiday Inn, John Lewis, McCann Worldgroup, Mondo, NATURE VALLEY, Next, Nielsen, Populous, Rapiscan Systems, Rio Tinto, Technogym, Thames Water, Ticketmaster, Trebor and Westfield.
There is one domestic Tier One Paralympic Games-only Partner, Sainsbury's and one domestic Tier Three Paralympic Games-only Supplier, Otto Bock. The London 2012 Paralympic Games also acknowledges the support of the National Lottery.
# # #