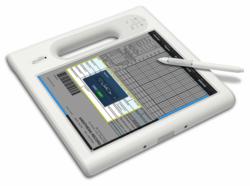 With the AnesthesiaEMR.com running on Motion Tablet PCs, I can keep pace with my fastest surgeons
Austin, TX and Las Vegas, NV (PRWEB) February 20, 2012
HIMSS 2012
Motion Booth #4230
Today's anesthesiologists are mobile – they rarely, if ever, practice in just one location. This amount of mobility requires that their electronic medical records (EMRs) are as mobile and portable as their practice. As such, Graphium Health, a healthcare software company dedicated to improving patient satisfaction and the quality of patient care through mobile technology, selected the Motion® C5v Tablet PC as well as the J3500 Tablet PC to develop AnesthesiaEMR.com, a web-based application which digitizes the existing intraoperative anesthesia form, allowing users to document via a tablet PC, effectively connecting the anesthesiologist to the cloud.
Tweet this: Graphium #Health selects @MotionComputing #tablets for AnesthesiaEMR.com, helps improve patient care http://bit.ly/i5SaXR #HIMSS12
By developing AnesthesiaEMR.com to run on Motion Tablet PCs, Graphium Health was able to capitalize on the tablet PCs' unique stylus capabilities, replacing paper records with an electronic solution that enhances efficiency, reliability and accuracy.
According to Jeffrey R. Zavaleta, M.D., private-practice pediatric anesthesiologist and chief medical officer of Graphium Health, "Compared to what's out on the market, the Motion C5v and J3500 Tablet PCs have three distinct advantages: first the durability is unsurpassed, and common disinfectant wipes easily cleansed contaminated units; second, the stylus input was a must for our 'digital pen and paper' solution; finally the Windows® 7 operating system allows our IT department to easily disk image and support the hardware. With the AnesthesiaEMR.com running on Motion Tablet PCs, I can keep pace with my fastest surgeons."
AnesthesiaEMR.com, running on Motion Tablet PCs, allows the anesthesia department to complete intraoperative records, prevent record loss, automate billing compliance checks and batch billing processes and enable real-time remote supervision. Because of the tablets' connection to the cloud and AnesthesiaEMR.com's enterprise-validated business intelligence engine, administrators can ensure throughput, efficiency and patient safety across facilities in real time. The additional use of the barcode scanner and camera allow for automated patient and drug identification before every surgical case, ensuring the safe delivery of care to patients and the legal documentation of ancillary procedures.
By eliminating the need for paper-based forms, the mobile computing solution helps reduce the potential for error as well as lost records and revenue. The supervising anesthesiologist can now manage multiple rooms at once by easily accessing all required records and supervising the delivered anesthetic, saving valuable time. The office secretary is no longer required to validate each record to ensure all signatures and times are complete – the solution automates this process from start to finish. The medical director no longer needs to wait six months for productivity reports to identify which providers should improve their patient safety practices, as the information is generated and captured in real time and viewable in the OR Dashboard.
Aside from the provider and patient benefits, the elimination of paper creates a green benefit. A typical process starts with the creation of an anesthesia record on a paper form with three additional carbon copies. The original copy goes on the patient's chart, and the remaining copies are delivered to the billing office, pharmacy and anesthesia office. Each copy of the record serves a different purpose: the chart copy is scanned into the hospital's EMR as a PDF; the billing copy is manually entered into the billing software; the pharmacy copy is used to reconcile pharmacy charges; and the anesthesia copy is stored in the office for six months for possible data mining, a process so dependent on human capital it becomes cost prohibitive.
According to Dr. Zavaleta, there are currently 90,000 anesthesia providers and 40-50 million anesthetic procedures performed each year in the U.S. By eliminating paper-based forms, the savings can add up to 200 million pieces of paper a year.
Finding Motion at HIMSS
Motion is exhibiting in booth #4230 and demoing the CL900, F5v, C5v and the J3500 Tablet PCs as well as its industry-first, integrated expansion solution for data acquisition and transaction processing, the CL900 SlateMate™ with Magnetic Stripe Reader (MSR) and Barcode Scanner (BCS). Stop by the booth for product information, case studies, giveaways and more.
Web Resources
AnesthesiaEMR.com: http://www.AnesthesiaEMR.com
Healthcare: http://www.motioncomputing.com/solutions/healthcare.asp
LinkedIn: http://www.linkedin.com/company/12982
Twitter: http://twitter.com/MotionComputing
Facebook: http://facebook.com/MotionComputing
About Graphium Health
Graphium is Latin for "modern pen" or "writing style." We recognize pen and paper are the most familiar, reliable, and mobile formats of record keeping. Graphium Health leverages digital technologies to design mobile applications with "pen and paper" simplicity and familiarity that also provide usable metrics based on access to real time data. Explore how our mobile technologies will improve your patients' satisfaction, outcomes, and most importantly, your bottom line at http://www.graphiumhealth.com.
About Motion Computing
Motion Computing is a leading global provider of tablet PCs and supporting mobility solutions, combining world-class products with services customized for the unique needs of mobile professionals across vertical markets, such as field service, retail and healthcare. The company's enhanced line of rugged tablet PCs as well as mobile point of service solutions and accessories are designed to increase mobile productivity while providing portability, security, power and versatility. For more information visit http://www.motioncomputing.com.
# # #
Motion Computing and Motion are registered trademarks of Motion Computing, Inc., in the United States and other countries. All other trademarks and copyrights are the property of their respective owners.