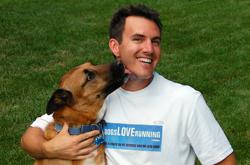 Our podcast discusses everything cool, fun, and interesting in the dog world.
Lisle, Illinois (PRWEB) February 20, 2012
Dogs Love Running!, a unique pet sitting and dog walking/running franchise focusing on helping pets live longer and behave better through exercise, has announced a new podcast program.
"We're creating some 'infotainment' for the dog community" says John Reh, the company's president. "We want to discuss all things cool, fun, and interesting in the dog world."
Their pet podcast guests include people from all parts of the pet community. "We're looking for an interesting story angle. We want something that's going to appeal to the listener. That may be an interesting product/service or a unique pet-related hobby or it could be nothing more than a funny story", says Reh.
Each program is about 25 minutes in length, just enough time to listen to while on the way to work or on the treadmill. New episodes appear once per week on Thursdays.
"You can find a summary of each episode on a podcast blog we have on our site. You can also find us in Apple's iTunes in the Podcast directory. Just search for 'Dogs Love Running'" says John, who hosts the show.
Aside from producing a podcast program, Mr. Reh is also the founder of the Dogs Love Running! pet care service and franchise. They are typically categorized as a "dog walking and pet sitting" company. Although they do provide those services, what makes them different is that they also provide a "dog running" service. Just like it sounds, they'll literally go out and run with clients' dogs.
To learn about Dogs Love Running! podcast episodes, visit their site at http://www.dogsloverunning.com/podcasts. They're also looking for guests to be on the show. Interested people can apply at the podcast episode page on their site.
To listen, download, or subscribe to the Dogs Love Running! podcast, visit their iTunes page at: http://itunes.apple.com/us/podcast/dogs-love-running!-podcast/id501102669
About: Dogs Love Running! helps pets live longer and behave better through exercise. They offer private dog walking/running, pet sitting, and related services at the customer's home. They're also a low-cost, home-based franchise with available locations across the nation.
###