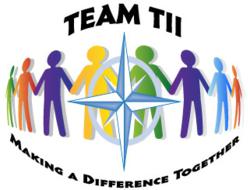 East Hartford, CT (PRWEB) February 23, 2012
When Travel Insured's Vice President Tina Gehris launched Team TII to support Travel Insureds mission of "giving back" on a company level in 2011, employees took on the fundraising challenge with creativity and a great deal of enthusiasm.
The Claims department held a weekly bake sale, the Licensing department organized dinners at local firehouses - as well as at Chili's in Manchester, Connecticut, which donated 10% of participating patrons' dinner orders - and employees from across the company, along with their families, knocked on their neighbors' doors to request donations. Overall, these proved to be great ways to raise funds, to raise awareness for several very deserving organizations, and also to directly connect with many people in the community.
In the course of the year, Team TII's efforts generated $18,582 in donations for several charitable organizations, including, the American Liver Foundation, the Juvenile Diabetes Research Foundation, the Connecticut Children's Hospital, Toys for Tots and the East Hartford Food Shelters.
This year, Team TII members will raise funds for the Special Olympics (by taking the Penguin Plunge into the cold waters of Ellington, Connecticut on March 24), for the Arthritis Foundation and the American Cancer Society (by walking 3 miles), and for the American Liver Foundation (by running either a ½ marathon or a full marathon), as well as for the Juvenile Diabetes Research Foundation, Cystic Fibrosis Foundation (Great Strides Walk), the Connecticut Children's Hospital, and Toys for Tots.
Tina Gehris, Vice President of Travel Insured International said, "Giving it back and paying it forward has always been a big part of my life and an important value of the Gehris family. When creating Team TII our hope was to foster an environment of charitable giving, where hard work, dedication, and caring goes beyond the walls of Travel Insured International and your current job description. I am proud to say our employees have stepped up in a big way and have far exceeded our expectations."
About Travel Insured International®
Travel Insured International®, based in E. Hartford, CT, was founded in 1994 by the foresight of insurance industry executive Peter Gehris when he acquired the travel protection division of the Travelers Insurance Company. Coverage is underwritten by Arch Insurance Company (a Missouri corporation, NAIC #11150) with executive offices located in Jersey City, NJ. Arch Insurance is rated A ("Excellent") for financial strength by the insurance rating service A.M. Best. Not all insurance products or coverage is available in all jurisdictions. Coverage is subject to actual policy language.
Travel Insured International®
52-S Oakland Ave.
E. Hartford, CT 06128-0568
Contact: Sherry Sutton
Marketing Director
http://www.travelinsured.com
###