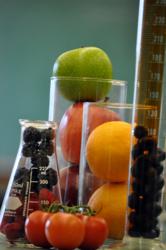 Portland, OR. (PRWEB) February 28, 2012
The University of Western States (UWS) is proud to announce a new graduate degree program starting in April, 2012—the Master of Science in Nutrition and Functional Medicine. The program will be offered nearly in its entirety on-line and represents a unique collaborative relationship between UWS and the Institute of Functional Medicine (IFM). The IFM is a well-recognized leader in the development and education of functional medicine concepts for over a decade.
The program consists of 50 quarter-credits of graduate coursework (33 semester credits), and integrates standard clinical nutrition subject material with the systems biology perspectives within Functional Medicine, which includes important interdisciplinary and evidence-based perspectives, patient assessments, and clinical interventions.
Given the rapid advancements in the field of clinical nutrition and the increasingly central role of nutrition in the maintenance of health and the prevention of diseases such as cardiovascular disease and diabetes mellitus, the delivery of a clinical nutrition degree with Functional Medicine perspectives, assessments, and interventions gives graduates of the UWS Master of Science in Nutrition and Functional Medicine program clear educational and professional advantages.
The program's director is clinician, researcher, author and international lecturer Dr. Alex Vasquez, D.C., N.D., D.O. Dr. Vasquez has written approximately 100 articles and 7 books discussing nutrition, integrative care, and functional medicine.
The University of Western States offers a variety of academic degrees and programs in the health and human sciences that provide our students with a solid foundation for careers in integrated health care, and our clinic patients with world-class, science-driven care.
UWS has been approved by the Northwest Commission for Colleges and Universities (NWCCU) to offer this Master's degree. For more information about the Masters program in Nutrition and Functional Medicine or the University of Western States, visit http://www.uws.edu.
###