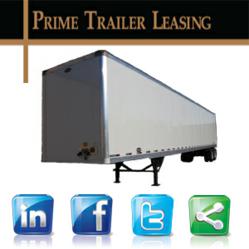 Denver, Colorado (PRWEB) February 29, 2012
At the beginning of 2012, Prime Trailer Leasing purchased a large group of 48x102 intermodal spec trailers to resale across the entire United States. Thought purchased in Chicago, Illinois, Prime Trailer Leasing has established transportation routes to allow customers to purchase these trailers and have them delivered to their location as needed. The total purchase quantity was not disclosed, but they are advertising on their inventory that there are more than 100 trailers purchased in this deal alone.
Prime Trailer Leasing has released the specifications for the intermodal group and is as follows:
Quantity: 100 (More Dropping Each Week)
Spec: Rail or Intermodal Spec
Composition: Sheet and Post
Suspension: Spring Ride Suspension
Door Type: Swing Doors
Roof Type: Aluminum Roofs
Floor Type: Wood Floors
Tires: Mix of 22.5 and 10/100/20
Brakes: Dot Acceptable
This is an opportune time for Prime Trailer Leasing to purchase 48x102 rail spec trailers. With the new trailer sales market backed up till 2013 already, the demand for used trailers has increased substantially. These trailers ranging in years of 1992-1998 are older than most over the road equipment but due to their specifications, they are built to last and make for a perfect solution to local cartage or storage applications at a great price.
Prime Trailer Leasing is advertising these trailers on their website. To view these trailers for sale you can visit their 48' dry van sale inventory page and check out their specifications, pictures, and additional information.
###