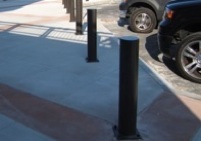 Manchester, CT (PRWEB) February 19, 2012
Dawn Enterprises, elite manufacturer and distributor of precast steel and concrete outdoor site amenities for government accounts, supplied the United States Fish and Wildlife Service with 22 steel bollards.
More specifically, the US Fish and Wildlife service requested for the bollards to be 6" in diameter, a 7' in length, schedule 40 wall thickness and a primed finish.
Steel bollards are designed for durability, aesthetics and security protection, as they can easily withstand harsh weather and offer an attractive perimeter barrier. For more detailed information, please contact Dawn Enterprises at 1-800-262-3296 or visit http://www.godawn.com/category/steel-bollards.htm
Headquartered in Manchester, Connecticut, Dawn Enterprises is a green-friendly company and can manufacture any of their products (benches, bollards, tables, planters, waste receptacles, ashtrays, bollard covers, chairs) utilizing recycled and sustainable materials. Visit their website at http://www.godawn.com.
###