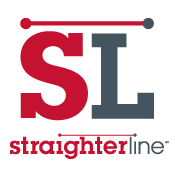 "Together, we can bring an affordable pathway into college for the students of Illinois and beyond," says Burck Smith, CEO of StraighterLine.
Baltimore, MD (PRWEB) February 21, 2012
StraighterLine (StraighterLine.com) announced today that Concordia University Chicago (CUChicago.edu) joined the rapidly expanding group of regionally accredited partner schools who welcome StraighterLine students to transfer their credits and to enroll in their school. This news means that students can transfer their StraighterLine college credits to another institution of higher education that offers over 100 areas of study taught in small classes focused on student success. Together, Concordia University Chicago and StraighterLine offer all students the opportunity to get a quality education online, in the evening or in blended classes, all at an accelerated pace and at the substantially lower costs.
Both Concordia University Chicago and StraighterLine believe that students are becoming more proactive about earning their degrees on their own terms. Through this partnership, students who successfully complete StraighterLine's affordable online college courses may transfer their courses for full credit when they enroll in one of Concordia University Chicago's degree programs.
Students can take freshman and introductory-level classes through StraighterLine and save thousands of dollars on the cost of their college degree. With StraighterLine's affordable subscription pricing plan, students pay only $99 per month plus $39 per course started (one time fee) and can move through the material as quickly or slowly as they like.
StraighterLine courses have been evaluated and recommended by the American Council on Education's College Credit Recommendation Service (ACE CREDIT). Compared to online courses from a typical college or university, StraighterLine's courses have been found to offer equal academic rigor but are more affordable and convenient. Ninety percent (90%) of successful StraighterLine students were either enrolled or had completed their degree program at the college which accepted StraighterLine's courses.
Currently, the StraighterLine curriculum offers thirty-eight entry-level college courses online including College Algebra, Precalculus, Calculus I, Calculus II, Business Writing, Introduction to Biology, Introduction to Biology with lab, General Chemistry I, General Chemistry I with lab, English Comp I, English Comp II, Accounting I, Accounting II, Managerial Accounting, Macroeconomics, Microeconomics, Business Statistics, Anatomy & Physiology I & II, each with a lab option, Medical Terminology, Psychology, Introduction to Business, Introduction to Criminal Justice, Introduction to Nutrition, Introduction to Sociology, Western Civilization I, Personal Finance, United States History I, Student Success, Pharmacology I, Pharmacology II, General Physics I, General Physics I with lab and two developmental courses.
"Together, we can bring an affordable pathway into college for the students of Illinois and beyond," says Burck Smith, CEO of StraighterLine.
According to Dr. Thomas P. Jandris, the dean of the College of Graduate and Innovative Programs and vice president of educational innovation for Concordia University Chicago, "We are thrilled to be furthering Concordia's leadership in bringing innovative programs to students across the country through this new partnership with StraighterLine. "
Dr. Jandris believes that this opportunity will allow Concordia to dramatically reduce the total cost of a four-year bachelor's degree, while allowing the university to continue to reinvest its resources in the continual improvement of its undergraduate offerings.
"The creative and quality-focused offerings that will be made available to students through this program will extend the opportunity for post-secondary education to many heretofore underserved students," says Dr. Jandris.
About Concordia University Chicago
Concordia University Chicago is a liberal arts-based Christian university in the Lutheran tradition. Through its College of Arts and Sciences, College of Business, College of Education, and College of Graduate and Innovative Programs, Concordia offers more than 100 areas of study in small classes taught by professors who are passionate about teaching and student success.
Concordia University Chicago was named as the second fastest-growing campus among private nonprofit master's institutions nationally by The Chronicle of Higher Education's 2011 Almanac Edition. For the third consecutive year, combined undergraduate and graduate enrollment has exceeded more than 5,000 students. Concordia University Chicago is located in River Forest, 10 miles west of downtown Chicago. Learn more at CUChicago.edu and gradschool.cuchicago.edu.
About StraighterLine
StraighterLine has been recognized as a revolutionizing force in education by major news organizations and the U.S. Chamber of Commerce for offering students online courses that earn real college credit for just $99 a month. Fast Company named StraighterLine one of the "10 Most Innovative Companies in Education."
In order to facilitate the award of credit, StraighterLine has forged partnerships with leading accredited online colleges and universities. A student ultimately earns a degree from those institutions but realizes tremendous savings and convenience by starting with StraighterLine.
StraighterLine's courses are evaluated and recommended by the American Council on Education's College Credit Recommendation Service (ACE CREDIT). In addition to the institutions with which StraighterLine has a direct relationship, more than 250 other schools are reported to have accepted StraighterLine coursework for transfer credit.
Currently, StraighterLine offers 38 entry-level college courses online in the Sciences, Humanities, English, Math and Business.
For information, visit StraighterLine.com or call 202-507-7020 or 1-877-str8erline (1-877-787-8375).
###