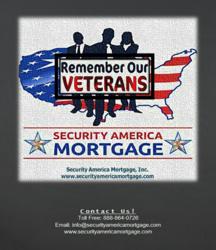 What do IRAs really mean in the big picture? More Savings and More Money! (B. Jenkins)
North Carolina, South Carolina, Virginia, Texas, Florida, California (PRWEB) February 21, 2012
At Security America Mortgage, Inc. a Senior Financial Advisor, Brandon Jenkins, shared some helpful tips for retirement with retired (and soon to be retired) military veterans, which in turn, enabled full understanding over the terms referred to as "Individual Retirement Account (IRA) Plans", how they can be obtained, and why they are useful following the release of 401(k) retirement plans.
Due to the growing number of many retiring veterans, several things concerning VA benefits are likely to be on their minds, such as buying a home using VA Home Loans, receiving student grants, and relocation assistance - just to name a few. This is why retirement can often be put on the back burner, post-retirement. Since there are many details to cover in the topic of retirement, a simple summary over the basic 401(k) and IRA investment options (below) was put together by the VA Industry Experts, which will bring military service members some peace of mind when retirement comes closer to a reality.
According to the IRS website, the 401(k) retirement plan is, "a type of tax-qualified deferred compensation plan in which an employee can elect to have the employer contribute a portion of his or her cash wages to the plan on a pretax basis" (2012). For veterans who have recently left a job, having to decide whether or not they want to rollover their 401(k) into an IRA option is probably the last on their list as buying a real estate property, using VA benefits, and other things are likely to take first place on their list of goals. What do IRAs really mean in the big picture? More Savings and More Money.
First off, an IRA can be defined as an alternative retirement plan that provides tax advantages in United States, including retirement investments that can continue to grow savings. There are two types of options to choose from when looking into getting an IRA plan, which are the Traditional IRA Plan, and the Roth IRA Plan.
OPTION 1 - TRADITIONAL IRA PLAN
A Traditional IRA is an investment vehicle that allows individuals to direct pretax income, no greater than IRS annual limits, towards investments that grow tax-deferred. These contributions can sometimes be tax deductible depending on your filing status, income and other factors.
OPTION 2 - ROTH IRA PLAN
A Roth IRA is also an investment vehicle that allows individuals to direct after tax funds towards investments. The contributions are not tax deductible; however, qualified distributions are tax free.
Qualified distributions include the following:
1. It must occur at least five years after the Roth IRA owner established and funded his/her first Roth IRA.
2. At least one of the following requirements must be met:
a) The Roth IRA holder must be at least age 59.5 when the distribution occurs.
b) Distributed assets limited to $10,000 are used towards the purchase or rebuilding of a first home for the Roth IRA holder or a qualified family member.
c) The distribution occurs after the Roth IRA holder becomes disabled.
d) The assets are distributed to the beneficiary of the Roth IRA holder after his/her death.
WHAT IS RETIREMENT ROLLOVER?
A rollover happens when you withdraw cash or other assets from one eligible retirement plan and contribute all or part of it within 60 days to another retirement plan. Though rollovers are not taxable and most are eligible for rollovers, the following types of retirement plans cannot proceed with this option:
1. The nontaxable part of a distribution, such as your after-tax contributions to a retirement plan
(after-tax contributions –some are except from this rule and can be rolled over)
2. A distribution that is one of a series of payments based on your life expectancy, or the joint life
3. Expectancy of you and your beneficiary, or paid over a period of ten years or more
4. A required minimum distribution
5. A hardship distribution
6. Dividends on employer securities
7. The cost of life insurance coverage
With all of the retirement basics reviewed and set aside, veterans can now rely on experts like those from Security America Mortgage, Inc. to take care of their remaining questions and concerns, anywhere from Colorado to North Carolina.
Would you like to know more about getting a VA home loan? Contact a VA Loan Industry Expert near you to secure your future financial savings, mortgage loan, and security in owning a home today.
# # #