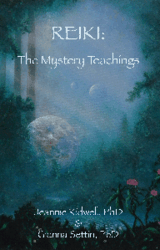 This new book merges ancient wisdom from esoteric mystery teachings with thought-provoking insights into the philosophy of Reiki, a Japanese spiritual healing system.
Indianapolis, IN (PRWEB) February 23, 2012
Reiki teachers and practitioners, as well as all who are interested in healing and spiritual advancement, will benefit from this book. On the threshold of the "fourth phase of Reiki," this new book merges ancient wisdom from esoteric mystery teachings with thought-provoking insights into the inner workings of Reiki.
In "Reiki: The Mystery Teachings," readers are introduced to a spiritually advanced view of Reiki. The authors present new perspectives on the unique waveform of Reiki¬–what they refer to as "the Reiki Wave"¬; the anatomy of the Empowerment; an analysis of commonly-held beliefs about Reiki; the importance of Intent; the "Big Heart-Mind" of Reiki and how it taps into the Big Heart-Mind of the Universe; moving energy with Reiki meditation; the importance of "doing the work" and Reiki and the Psyche and Soul. The authors also share their understanding of how "keys" for spiritual advancement are built into each level of Reiki and how the Reiki Empowerment entrains with the higher-finer vibrational energy of the Higher Self of each individual.
In the authors' words: "Reiki isn't just to heal a wound or to feel good–it is far more than this. It is setting up your system for receiving contact with the spiritual realms…delving into the Great Mysteries encourages the seeking of answers, enlivens intuition, opens our minds and hearts to possibilities."
Authors Jeannie Kidwell and Gianna Settin began their collaboration after decades of experience in similar careers in psychology, private clinic practice and teaching at universities, as well as Reiki. Dr. Kidwell teaches and practices Reiki in California, and Dr. Settin teaches and practices Reiki in Colorado.
For additional information, please visit http://www.Reikithemysteryteachings.com.
Reiki: The Mystery Teachings
Jeannie Kidwell, PhD and Gianna Settin, PhD
Dog Ear Publishing
ISBN: 978-0-615-49144-8 204 pages $19.95 US
Available at Ingram, Amazon.com, Barnes & Noble and fine bookstores everywhere.
About Dog Ear Publishing, LLC
Dog Ear Publishing offers completely customized self-publishing services for independent authors. We provide cost-effective, fast, and highly profitable services to publish and distribute independently published books. Our book publishing and distribution services reach worldwide. Dog Ear authors retain all rights and complete creative control throughout the entire self-publishing process. Self-publishing services are available globally at http://www.dogearpublishing.net
and from our offices in Indianapolis.
Dog Ear Publishing – self-publishing that actually makes sense.
###