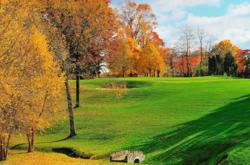 "We are thrilled to have the opportunity to work with a club so centered on the satisfaction and engagement of its membership." -- Shannon Herschbach, President, Pipeline Golf Marketing
Cincinnati, Ohio (PRWEB) February 18, 2012
Pipeline Golf Marketing is pleased to announce its most recent partnership with Clovernook Country Club, one of the oldest and most unique private country clubs in Ohio, located just 20 minutes from downtown Cincinnati.
Pipeline is shaping the membership marketing strategy for Clovernook and providing one of their local marketing experts to serve as onsite Director of Membership, responsible for tactical execution of the strategic plan. This approach is intended to be an effective long-term partnership between Pipeline and Clovernook Country Club and will result in an increased level of overall awareness for one of the finest clubs and best golf courses within the greater Cincinnati private country club market.
Originally designed in 1923 by renowned golf course architects Langford and Moreau, Clovernook has retained its untouched beauty. The gently rolling terrain is characterized by large undulating greens, manicured fairways lined by numerous varieties of centuries old trees, and two beautiful streams that meander gently throughout the course and culminate in a stunning lake that fronts the 17th and 18th greens and serves to enhance both the splendor and challenge of Clovernook's celebrated finishing holes.
For more information about Clovernook Country Club, please visit their website.
About Pipeline Golf Marketing: Pipeline provides a unique alternative to membership and event marketing on behalf of all types of private clubs throughout the United States, including golf clubs, country clubs, social and dining clubs and yacht clubs. Additional information about Pipeline can be found at the company's website.
###